Rockmore Plastic Surgery: Jeffrey Rockmore, MD
15 Old Loudon Road
Latham, NY 12110
Phone: (518) 328-3330
Fax: (518) 328-3337
Monday - Friday: 8 a.m.–5 p.m.

Facelift Before & After Case 347
*Keep in mind that each patient is unique and your results may vary.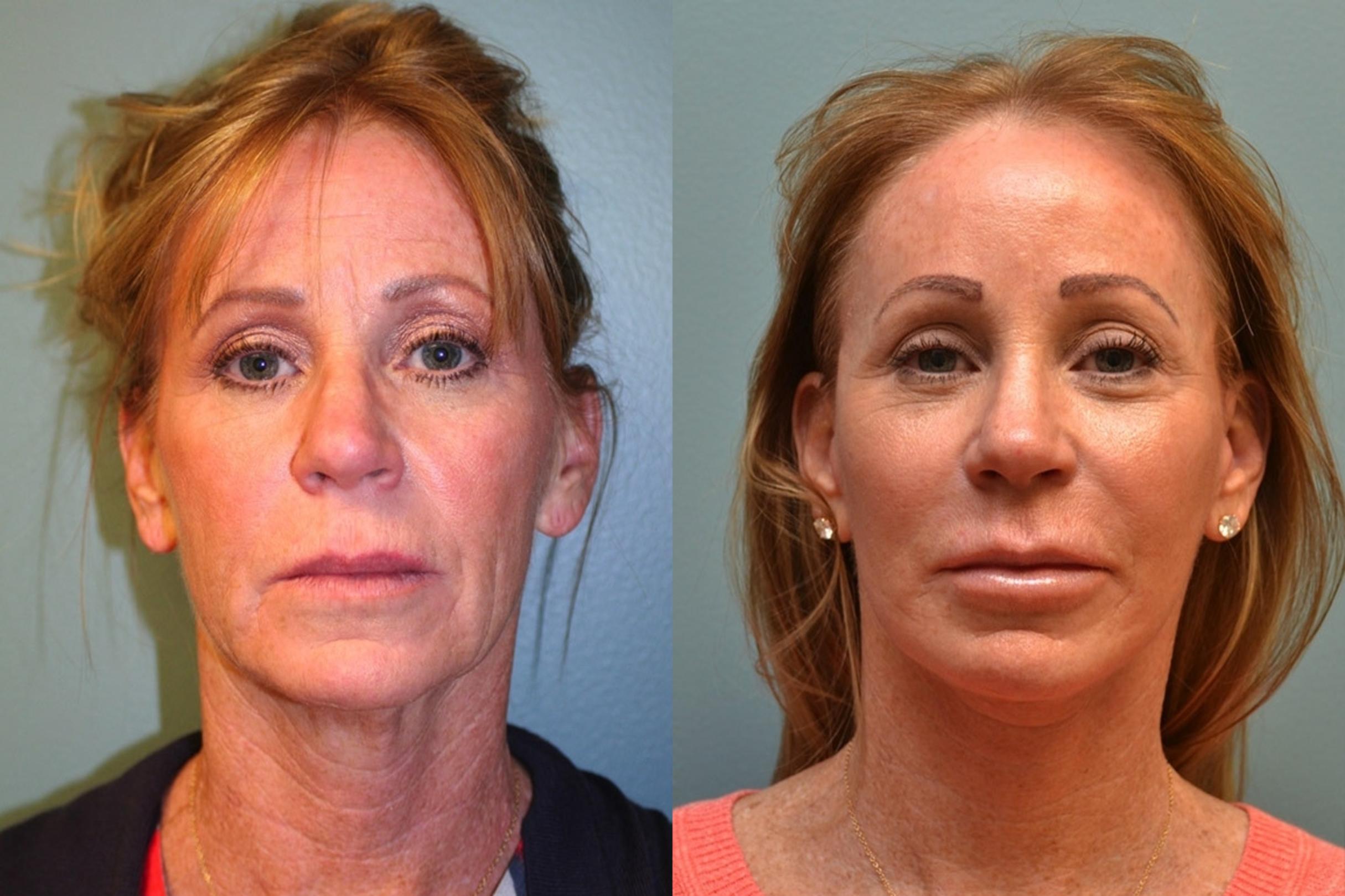 Before & After

This 56-year-old woman came to our Albany, New York, office to discuss ways of refreshing her look. She no longer felt that the person she saw in the mirror reflected how she felt on the inside. This is a common theme among people who visit Dr. Jeffrey Rockmore; they feel young on the inside but no longer look it on the outside. This woman wanted to look more like she used to and came in open-minded about her potential options.
Her preoperative picture shows some sign of aging. Everyone's face ages in a different way, with the one constant being that we all do age. For some women, fine wrinkles are the culprit. For others, the cheeks can descend. Still others may have loss of their neck contour. Most have a combination of several features. In this woman, there are some signs of sun damage. She had significant loss of the contour of her neck, which can be seen on the lateral photographs. As we age, we often lose the sharp angle of our neck, which instead becomes a straight line from our chin to our chest. As a result of the descent of the cheek, jowls develop, and the jawline contour is forever changed.
While there are many non-surgical techniques to rejuvenate the face, some cases are best treated with surgical options. This woman underwent a facelift and neck lift in Albany with Dr. Jeffrey Rockmore. He used the facelift to reposition her cheeks and jowls back where they belong. At the same time, he improved her neck contour with tightening of the muscle and skin. We frequently combine some fat grafting with facelifts to restore some of the volume of the cheeks that we lose as we age. Dr. Rockmore did this for this patient.
The results shown are 6 weeks after surgery. Typically people are able to get back to work and resume normal activities after 2 weeks' time. This woman's scars will continue to fade and soften over time until they become nearly invisible.
If you like the results you see here, request a consultation to learn more about how this procedure can help you achieve your ideal appearance. We encourage you to print your favorite photos and bring them with you during your consultation to help communicate your goals and expectations.
Keep in mind that each patient is unique and results may not occur for all patients. These photos are of an actual patient of our practice who has provided consent to display their pictures online.
About This Patient
View All Patient Photos
Back to Top