Rockmore Plastic Surgery: Jeffrey Rockmore, MD
15 Old Loudon Road
Latham, NY 12110
Phone: (518) 328-3330
Fax: (518) 328-3337
Monday - Friday: 8 a.m.–5 p.m.

Dr. Rockmore
Jeffrey Rockmore, MD, is a board-certified plastic surgeon who has an uncommon approach to aesthetic enhancement: He takes the time to get to know and appreciate each patient as a person. In doing so, he can provide the improvements that matter most to the individual. Dr. Rockmore finds it gratifying to use his refined surgical skills and natural talents to help people feel more confident about how they look. When you assess his qualifications, experience, and personal qualities, you'll understand why he's a popular choice among plastic surgeons in Latham, Troy, and throughout Albany County, NY.
Qualifications
Dr. Rockmore has more than 20 years of experience in plastic surgery. His training began with education at respected New York medical institutions. He completed his medical degree at Albany Medical College and his plastic surgery training at Albany Medical Center Hospital. Dr. Rockmore then went on to attain additional cosmetic surgery training at Manhattan Eye, Ear & Throat Hospital. He continues to keep apprised of advances in his profession.
"I view training as a lifelong endeavor. Because plastic surgery techniques and technology continually evolve, we as surgeons need to adapt as well. I do so by frequently attending conferences and reviewing the latest medical literature."

-Dr. Rockmore
Board Certifications
The American Board of Plastic Surgery
The American Board of Surgery
Professional Affiliations
The Aesthetic Society®
The American Society of Plastic Surgeons®
The American College of Surgeons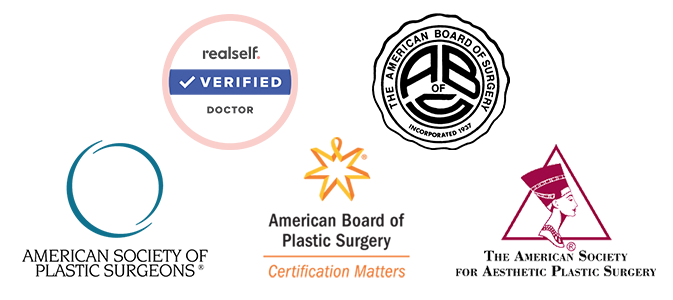 Why Qualifications Matter
When a doctor is "board certified," it means that he or she has completed a rigorous round of written and oral exams. Although it is legal to practice medicine without being board certified, the distinction indicates that a doctor has demonstrated advanced knowledge in his or her chosen field.
Medical boards are independent organizations that are not affiliated with medical schools or the government. Instead, they are overseen by a separate organization called the American Board of Medical Specialties to ensure their practices emphasize professional integrity and patient safety.
Certification exams are notoriously challenging, consisting of oral and written tests spanning several days. Achieving board certification is considered a major milestone in a physician's career, and surgeons must be re-certified regularly to maintain their status. Dr. Rockmore is proud to be a board-certified plastic surgeon.
In addition to his board certifications, Dr. Rockmore holds current membership in a number of professional organizations. Like board certifications, these memberships are not mandatory for a physician. However, membership keeps doctors on top of the latest advancements and innovations in their fields. Some of these organizations require rigorous training and an ongoing commitment to excellence from their members.
Personal Qualities
While qualifications are essential when choosing a plastic surgeon, personality is what often leads to a rewarding plastic surgery experience. Dr. Rockmore treasures the personal connections he develops with his patients. More than an accomplished plastic surgeon, he is supportive, caring, and easy to talk to.
"I take care of each and every patient as if they are family, and I remember that they are my priorities and my responsibilities throughout my care of them."

-Dr. Rockmore
A Personal Connection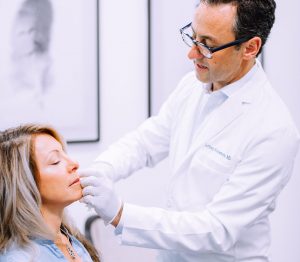 In most cases, your initial consultation is your first encounter with Dr. Rockmore. During this important appointment at his plastic surgery practice in Latham, he spends lots of time getting to know you as an individual and learning how your desired procedure fits into your lifestyle as a whole. He believes that understanding your motivations for undergoing surgery is just as important as planning your surgical options, and getting to know you as a unique individual is one of the best ways to achieve the exact results you've envisioned.
Dr. Rockmore sets himself apart from other plastic surgeons by using a "3-dimensional" approach when planning surgery. Instead of just envisioning your results as an image on a page, he uses his expertise to imagine how your improved body or face will move, age, and complement your other features. He communicates with candor and confidence, helping you understand how to best achieve your goals without making unrealistic promises.
"It all comes down to a feeling that patients have after meeting me — that I listened to their concerns and they trust my approach to achieve their dreams."

-Dr. Rockmore
Respect for Your Vision
Dr. Rockmore realizes that "ideal" results are subjective. He truly listens to the desires and concerns of each patient, customizing surgery to fit his or her specifications rather than an arbitrary physical ideal. Thanks to his ample experience, he knows that achieving a good result is a team effort.
He values patient safety and comfort just as much as a beautiful aesthetic, and he respects your personality and autonomy as he works hard to make your unique vision a reality.
"I think the primary reason a patient chooses a plastic surgeon is a personal connection they develop. It's important for a patient to know that a surgeon truly hears, understands, and can fulfill his or her aesthetic vision. I strive to develop this understanding during the initial conversation, taking the time to listen to my patients' concerns and working with them to establish a plan that meets their individual needs. Hopefully, during this time, they get a sense of who I am and leave feeling confident in choosing me as their surgeon."

-Dr. Rockmore
Favorite Procedures
Dr. Rockmore is skilled and experienced in a comprehensive range of surgical and nonsurgical cosmetic procedures. Here are a few of his favorites:
Real Patient Testimonials
Here's what patients have shared about their experiences:
"I am very happy with the results of my breast lift surgery with Dr. Rockmore. He is very pleasant, and whenever I had a question, or wanted to come into the office, he was very accommodating."
"Dr. Rockmore listened to and respected my questions and concerns. He put any fear and anxiety I had about my breast augment to rest. The quality of my care before and after surgery has been impeccable."
"Dr. Rockmore did an excellent job and exceeded expectations. His personality, demeanor, professionalism and results are what I will base recommendations in the future on."
"Dr. Rockmore has innate compassion, skill and expertise that is born of education, skill and character. I am so fortunate to have been recommended to him."
See what else patients had to say on our testimonials page.
A Trusted Community Presence
Educated and trained in upstate New York, Dr. Rockmore feels a deep connection to the region. He's proud of the reputation he's established for himself throughout the Capital Region, and he treats every patient with a level of respect and warmth typically reserved for friends and neighbors.
As a result, he's won the trust of many men and women throughout our diverse community. He enjoys participating in regional events, and he's proud to provide world-class care to other members of the community he calls home.
Thanks to his years of experience, Dr. Rockmore has established a solid reputation outside of the local area, too. He regularly appears in the media and interacts with patients from around the globe on RealSelf.com, an online plastic surgery forum. Additionally, patients come from throughout the state and even the region to consult with him.
Dr. Rockmore strives for perfection in every procedure he performs. To talk with him about your aesthetic goals, request a consultation using the online form or call his office in Latham, New York, at (518) 328-3330.