Rockmore Plastic Surgery: Jeffrey Rockmore, MD
15 Old Loudon Road
Latham, NY 12110
Phone: (518) 328-3330
Fax: (518) 328-3337
Monday: 9 a.m.–6 p.m.
Tuesday, Wednesday, Friday: 8 a.m.–5 p.m.
Thursday: 8 a.m.–7 p.m.

Breast Augmentation
Whether you've wanted larger breasts for years or you're simply in search of a lasting way to restore fullness after pregnancy or weight loss, breast augmentation by Dr. Jeffrey Rockmore can provide the results you want. Breast augmentation consistently ranks as one of the most popular cosmetic procedures in the country, and its appeal continues to endure.
At his practice in Latham, near Albany, Dr. Rockmore performs breast augmentation using breast implants to add volume and create results that look and feel natural. Clothes will fit better, and it is no longer a chore to go bathing suit shopping.
Breast Augmentation

Before & After Photos
WARNING:
This feature contains nudity. Please click OK to confirm you are at least 18 years of age and are not offended by such material.
OK
Breast Augmentation

Before & After Photos

Keep in mind that each patient is unique and your results may vary.

Keep in mind that each patient is unique and your results may vary.
Are You a Candidate for Breast Augmentation?
Surgical breast augmentation is a great choice for many women who choose the procedure for myriad reasons, including:
To add volume to naturally small breasts or breasts that have lost mass after pregnancy
To balance breasts that are asymmetrical
To feel more confident in their favorite clothes or during intimacy
To harmonize the size of the breasts with the rest of the body to correct the shape of tubular breasts
During your consultation with Dr. Rockmore, he talks to you extensively about your motivations for undergoing surgery. Understanding each patient as an individual enables him to create more satisfying results that are unique to the desires of each woman. He also performs a physical examination and discusses your health history with you to ensure that breast augmentation is the safest and most effective choice for your needs.
He may also recommend incorporating a breast lift into your breast augmentation surgery if you have sagging and would like your breasts to sit higher on your chest. Another option is including breast augmentation in a comprehensive mommy makeover.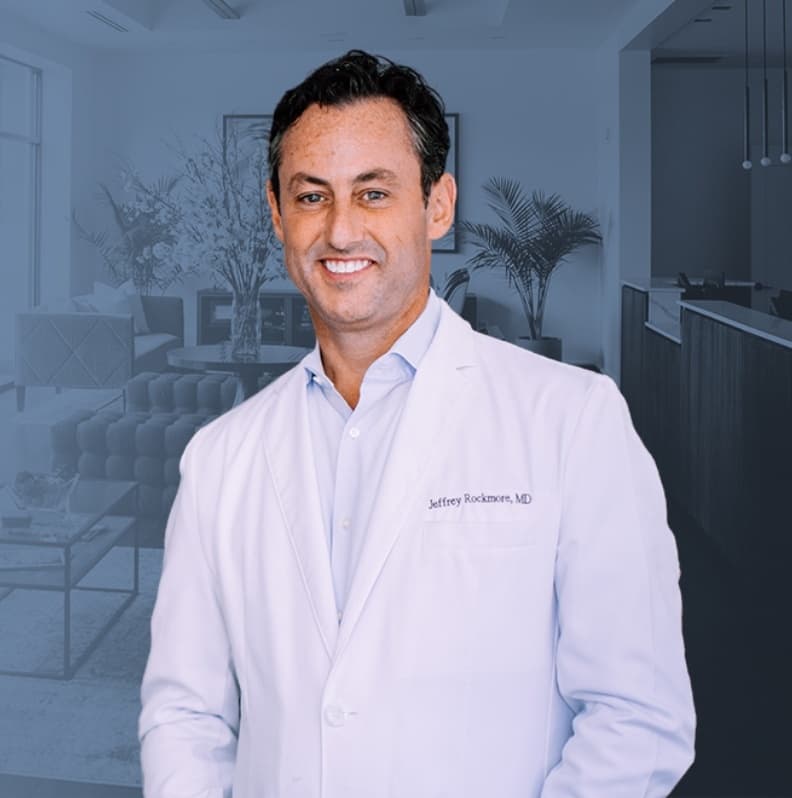 Dr. Rockmore
Board-Certified Plastic Surgeon
When you meet with Dr. Rockmore, you'll understand why men and women trust him with their plastic surgery results. His years of experience and refined aesthetic eye place him among the top plastic surgeons in the Capital Region.
Learn More Why Choose Dr. Rockmore for Breast Augmentation
Experience performing more than 4,000 breast procedures
A 3-dimensional approach that achieves consistently beautiful and natural-looking breasts
An individualized breast augmentation to meet your unique needs
Customizing Your Breast Augmentation
Each breast augmentation is completely individualized, and Dr. Rockmore uses a 3-dimensional approach for consistently beautiful and natural-looking breasts. There are more implants available than ever before, allowing him to customize each procedure.
Breast Implant Size & Shape
Breast implants come in many sizes and shapes, and choosing the right implant is a source of concern and anxiety among many women. While many doctors and websites focus solely on implant volume, Dr. Rockmore offers a different approach to implant selection to help create the look that you are hoping to achieve. This enables him to match the width of the implant to the width of your chest and breasts, preventing excess space between the breasts for full and natural-looking results.
Breast Implant Material
In the hands of a qualified plastic surgery specialist, such as Dr. Rockmore, both saline- and silicone-filled implants are safe and have the potential to create incredible results.
Saline implants are made of silicone shells filled with sterile saltwater and typically require smaller incisions than silicone implants.
Silicone implants have durable silicone shells that are filled with a gel of various degrees of cohesiveness. The most cohesive implants are often referred to as "gummy bear" breast implants. Cohesive silicone gel sticks together and does not leave the breast pocket if a rupture occurs.
Both saline and silicone implants are FDA-approved—saline for women older than 18 and silicone for women older than 22. However, most women considering breast implants find themselves drawn to one over the other.
Breast Implant Profile
This refers to the degree that implants stick out, or project, from the chest. Although it may seem straightforward, projection actually has more to do with your existing anatomy and your desired results. The choice of profile is determined by the desired look of the breasts. Higher profile implants have more upper fullness and look more "implanted," while moderate profile implants can look more natural, making them better matches for women with larger frames and wider chests.
Breast Augmentation Incisions
Dr. Rockmore begins the surgery by making an incision, and the area will depend on your specific needs and body. Common incision locations include:
Inframammary: a thin line that traces the fold beneath your breast
Periareolar: along the lower border of the areola, where the dark skin meets the lighter skin
Transaxillary: hidden in the armpit
Each incision type comes with its own advantages. In your consultation, Dr. Rockmore works with you to help you decide which option is best for you and your body.
Breast Implant Placement
Once he makes the incision, Dr. Rockmore creates a pocket where the implant will be placed. There are 3 types of pockets that are used for breast augmentation:
Subglandular: above the muscle
Submuscular: behind the pectoralis muscle
Biplanar: a combination of each
Each pocket type has its advantages, and Dr. Rockmore will recommend the pocket that fits your individual needs. For most women, this is a submuscular pocket, which provides a natural slope of the breast and provides additional coverage of the implant. If there is some slight sagging of the breast, a biplanar approach may avoid the need for a lift. Dr. Rockmore will help guide you through this process during your initial consultation.
What Is Breast Augmentation Recovery Like?
You can expect to feel some discomfort and grogginess immediately after your breast augmentation with Dr. Rockmore. Because the surgery is an outpatient procedure, you'll be able to return home after a brief period of observation. You can shower the day after surgery, and you can drive within 2 to 3 days if you're comfortable and no longer taking prescription pain medication. Most patients feel well enough to return to work and other light activities in less than a week.
Your first postoperative appointment is usually a week after your breast augmentation. At this time, Dr. Rockmore checks your breasts to ensure everything is progressing as planned. Office visits are then scheduled for 8 weeks and 6 months later, though this can be minimized for his patients traveling from a distance. While this is the usual schedule, Dr. Rockmore is happy to see you at any time during your recovery to answer questions or address concerns.
Dr. Rockmore provides you with a comfortable surgical bra to support your breasts as they continue to heal. Although your breasts will likely feel sensitive for some time, you may gradually return to more vigorous activities, including working out, over the next several weeks. As months pass, your augmented breasts will soften and settle into their final positions and your scars will fade, eventually developing into the beautiful, natural-looking results you envisioned.
A Reputation Built on Results
You deserve the highest caliber of service, care, and results, and at Rockmore Plastic Surgery, we're committed to providing all that and more. But don't take our word for it—see for yourself what our actual patients have to say about their experiences with us.
Read More Patient Reviews
How Much Does Breast Augmentation Cost?
The cost of breast augmentation at our Latham, NY, practice ranges between $8,000 and $8,500. This includes anesthesia, facility, post-op care, and all office and surgeon fees.
Women considering breast augmentation with implants travel from Troy, Schenectady, Saratoga Springs, and throughout New York to have Dr. Rockmore perform their procedures. You can request a consultation using the online form to meet with him or call our office at (518) 328-3330 to schedule an appointment.
Breast Augmentation FAQ
What will my scars look like?
It depends on the incision used during your procedure. Dr. Rockmore is mindful of his patients' concerns about scarring. Breast augmentation incisions may be made under the arm, in the fold beneath the breast, or around the areola. In any case, Dr. Rockmore makes these incisions meticulously to ensure they heal well. Patients can do their part to encourage healthy healing by following his incision care instructions after surgery.
Is breastfeeding possible after breast augmentation?
Yes. The techniques Dr. Rockmore uses ensure a high likelihood of successful breastfeeding. Additionally, the presence of implants doesn't hinder milk production. Breast augmentation is popular with young women who haven't yet had children; just be sure to let Dr. Rockmore know if you plan to breastfeed in the future.
If my breasts sag, is it really necessary to have a lift along with my augmentation?
It depends on the degree of sagging you're experiencing. Slight sagging can be reduced with breast augmentation alone, but more significant sagging may actually get worse once implants are introduced. The extra weight added by implants can make the breasts sag prematurely and lead to aesthetic complications.
During your consultation, Dr. Rockmore helps you understand if a combined breast augmentation and lift is in your best interest.
I've heard that implants need time to "drop." What does that mean?
"Dropping" or "drop and fluff" refers to the process of the muscles and tissues surrounding the implants softening and relaxing, allowing the breasts to take on a more natural appearance. Immediately after surgery, implants may appear high and tight on the chest. Over time, the body acclimates to the implants, and skin and muscle stretch to accommodate them. As this happens, the implants assume a slightly lower and more natural-looking position. The shape of the breasts is also improved as swelling subsides. This is a gradual process and can take several months to complete.
Back to Top