Rockmore Plastic Surgery: Jeffrey Rockmore, MD
15 Old Loudon Road
Latham, NY 12110
Phone: (518) 328-3330
Fax: (518) 328-3337
Monday - Friday: 8 a.m.–5 p.m.

Breast Augmentation Revision
Whether you're looking to have your implants removed, correct problems from a past surgery, or replace existing breast implants, breast augmentation revision gives you updated and enhanced results that align with your current goals for your body. Board-certified plastic surgeon Dr. Jeffrey Rockmore is a trusted and popular choice for breast augmentation revision and explant surgery among Latham and Albany County, NY, women.
Dr. Rockmore has performed thousands of breast procedures, each one individualized to match that woman's unique body and aesthetic desires. His 3-dimensional approach and personal consultation process lay a framework for customized, natural-looking results that will help you feel great.
Breast Augmentation Revision

Before & After Photos
WARNING:
This feature contains nudity. Please click OK to confirm you are at least 18 years of age and are not offended by such material.
OK
Breast Augmentation Revision

Before & After Photos

Keep in mind that each patient is unique and your results may vary.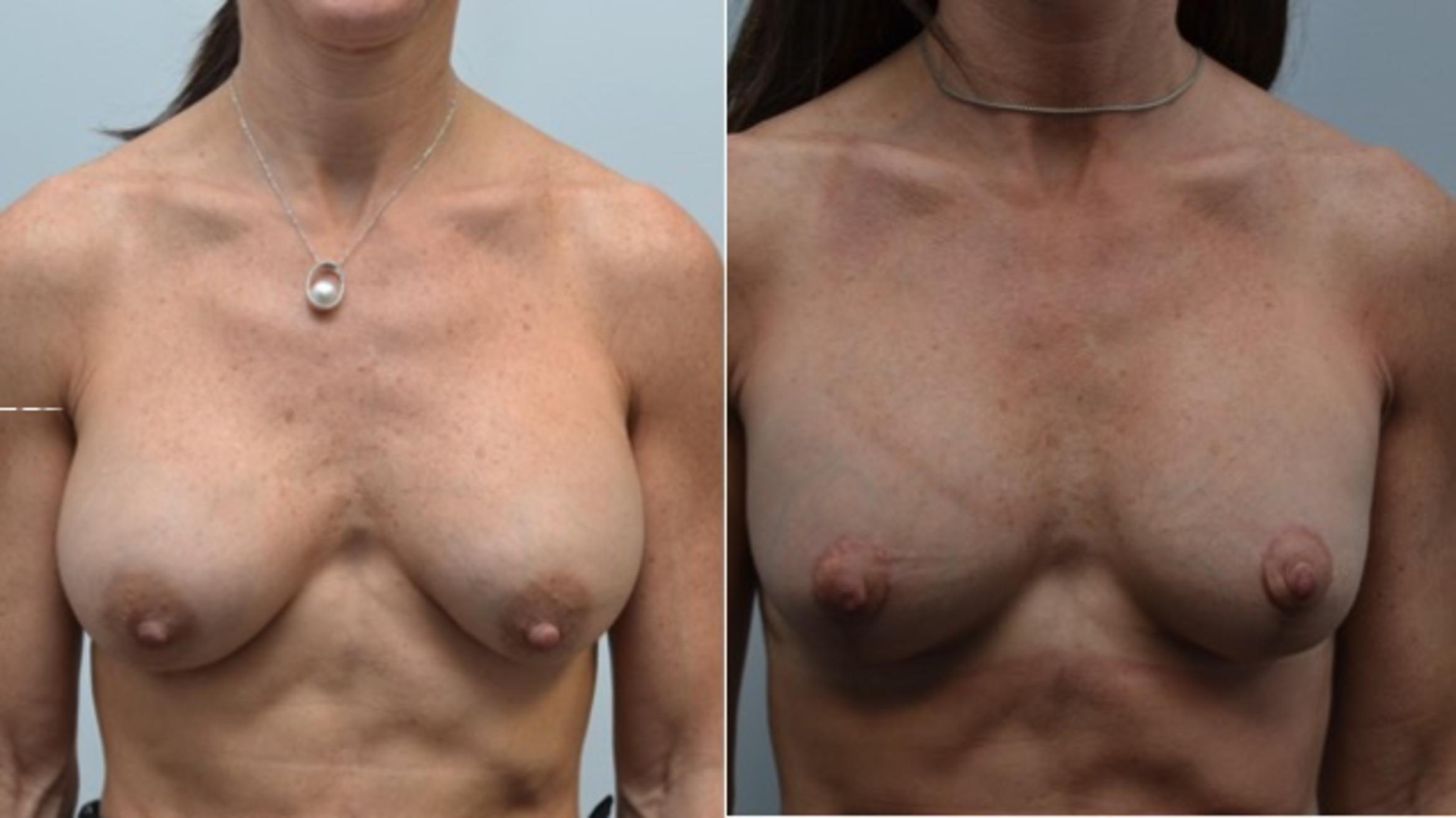 Before & After
Case #251
This 49 year old patient had a previous breast augmentation 5 years ago by a different doctor and was not happy with the results. She was hoping to have smaller, perkier breasts. To achieve what the patient wanted, I removed the old saline implants and put in 240 cc textured moderate profile silicone implants in addition to performing a breas...
Read More

Before & After
Case #291
The patient is 52-year-old female who had breast augmentation with Saline implants done in 2005. She feels there is some asymmetry and would like to have an exchange. We discussed the different options available and we decided to do an Augmentation Mastopexy. A Smooth Round Moderate profile 310-cc Silicone implant was used t...
Read More
Keep in mind that each patient is unique and your results may vary.
Are You a Candidate for Breast Augmentation Revision?
The choice to revise your results after breast augmentation is a personal one, and it may be done for health, lifestyle, or cosmetic purposes. The most common reasons include:
Aesthetic concerns: Dr. Rockmore treats women who had breast augmentation elsewhere and are unsatisfied with the results of their surgery. Common aesthetic problems include breast implants that are too wide, too close together, or implants that have "bottomed out." These can be corrected by making repairs to the implant pocket and repositioning the implants.
Complications: Breast implants change over time, sometimes rupturing, breaking down, or causing the formation of excess scar tissue. Revision surgery can correct many of the rare complications that may occur after breast augmentation.
Physical or lifestyle changes: In the years following your breast augmentation, it's likely you'll experience changes to your body, such as skin stretching, weight gain or loss, or changes to your exercise habits. You may eventually opt to revise or remove your implants to better suit your desired look and feel.
Because some degree of skin stretching occurs for many women, Dr. Rockmore frequently combines breast augmentation revision with a breast lift.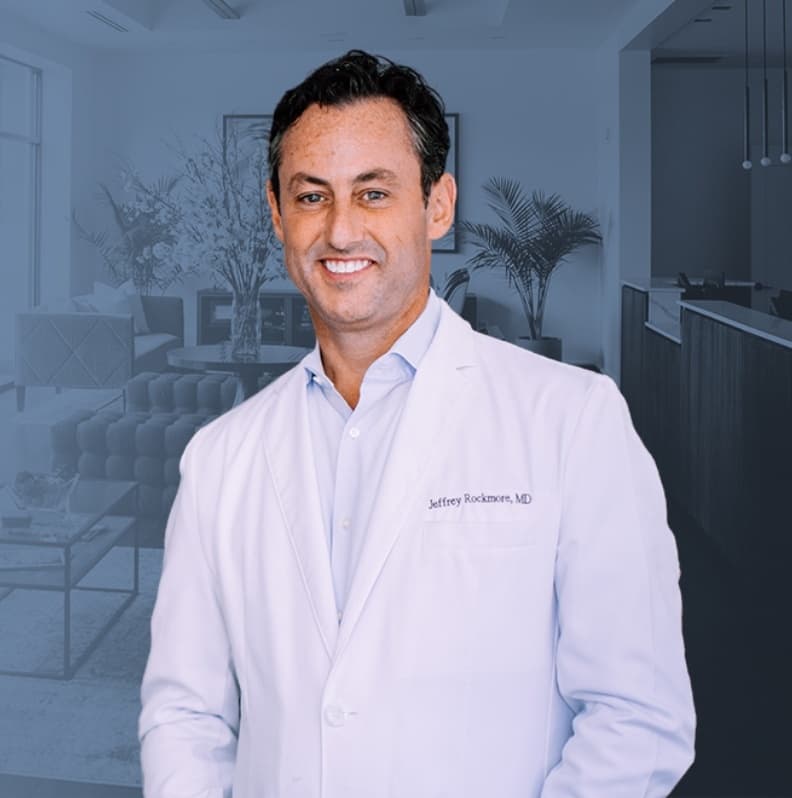 Dr. Rockmore
Board-Certified Plastic Surgeon
When you meet with Dr. Rockmore, you'll understand why men and women trust him with their plastic surgery results. His years of experience and refined aesthetic eye place him among the top plastic surgeons in the Capital Region.
Learn More Types of Breast Augmentation Revision
You and Dr. Rockmore will plan a custom surgery together to achieve the results you're looking for.
Breast Implant Removal (Explant)
Breast implant removal, or explant surgery, is ideal for women who have had a breast augmentation in the past and no longer want implants. In the procedure, Dr. Rockmore fully removes your breast implants while maintaining an attractive breast shape. This involves a decrease in volume, causing your breasts to return to roughly their original size.
Breast Implant Exchange
If you want to maintain your volume but are looking to adjust the size, shape, or material of your implants, you'll likely benefit from a breast implant exchange. Dr. Rockmore removes your existing implants and replaces them with new models that better fit your goals. This is also a popular option for women who have experienced complications such as rupture but want to maintain their fuller shape.
Breast Implant Revision
Breast implant revision surgery is intended for women who have had a breast augmentation in the past and are now concerned about the position of placement of their implants. This procedure addresses those concerns by reshaping the breasts, repositioning the implants, and adjusting the surrounding tissue to create a more youthful and attractive shape.
How Much Does Breast Augmentation Revision Cost?
The cost of breast augmentation revision in Latham and other cities near Albany, NY, ranges from $8,000 to $10,000. This price range is all-inclusive of anesthesia, facility, post-op care, and all office and surgeon fees. To learn more about costs associated with this procedure, schedule a consultation today.
"I am extremely happy with the results of my breast augmentation and nipple repair with Dr. Rockmore. He listened to exactly what I wanted and what I expected from the procedures, and I have to say they turned out just perfect for me. I am extremely pleased with my experience all around."

-Real patient
Read more testimonials from Dr. Rockmore's real patients.
How Is Breast Augmentation Revision Performed?
Dr. Rockmore performs breast augmentation revision in the fully accredited surgical center near his office. You will be placed under general anesthesia and monitored by a board-certified anesthesiologist. The specifics of the surgery will vary with your specific needs and goals. Because the surgery is an outpatient procedure, you'll return home the same day.
What Is Breast Augmentation Revision Recovery Like?
Most women return to work after 7 to 10 days and resume exercise after 4 to 6 weeks. This timeframe varies with the specifics of your procedure. Dr. Rockmore will give you detailed instructions for aftercare and will clear you to return to your usual activities as you heal.
A Reputation Built on Results
Dr Rockmore is the best. His practice from front office staff to nursing and himself are completely...
It's been a life changing experience with Dr. Rockmore and his team. I had a full TT + lipo, and my...
Rockmore plastic surgery made me feel so comfortable and it was one of the best experiences I've ever...
Dr. Rockmore has the BEST bedside manner. He spent time really getting to know me and my body and...
Dr. Rockmore performs breast augmentation revision and explant surgery in Latham for women from Troy, Schenectady, Saratoga Springs, and throughout eastern New York. Request a consultation online or call (518) 328-3330 to schedule your appointment.
Back to Top