Rockmore Plastic Surgery: Jeffrey Rockmore, MD
15 Old Loudon Road
Latham, NY 12110
Phone: (518) 328-3330
Fax: (518) 328-3337
Monday - Friday: 8 a.m.–5 p.m.

Breast Reduction
Having beautiful breasts doesn't always mean going larger. Many Albany-area women come to Dr. Rockmore's practice in Latham seeking breast reduction surgery. Living with uncomfortably large breasts can result in back, neck, and shoulder pain; significant sagging; and difficulties with clothing fit and exercise. Breast reduction can alleviate these discomforts and create breasts that are proportional to your body frame.
Depending on your desired outcome, anatomy, and degree of stretched skin, Dr. Rockmore will work with you to craft a solution to achieve your goals.
Breast Reduction

Before & After Photos
WARNING:
This feature contains nudity. Please click OK to confirm you are at least 18 years of age and are not offended by such material.
OK
Breast Reduction

Before & After Photos

Keep in mind that each patient is unique and your results may vary.

Keep in mind that each patient is unique and your results may vary.
Are You a Candidate for Breast Reduction?
Ideal breast reduction candidates are in good general health and are looking for help resolving issues related to excessive breast tissue (macromastia), including:
Physical discomfort: Large breasts often cause shoulder grooves, neck and back pain, and difficulty exercising.
Unbalanced proportion: Large breasts may not be in proportion to your body frame or build.
Aesthetic concerns: Prior to breast reduction surgery, large breasts tend to sag and stretch the skin.
Large areolas: If you're self-conscious about your areola size, these may also be reduced during surgery.
Asymmetry: Most women have asymmetric breasts to a degree, but naturally large breasts may create a much more noticeable difference.
Poor clothing fit: After a breast reduction, many women find it much easier to shop for clothes, including bras and gym wear.
A breast reduction may also include a breast lift and various alterations that result in symmetric and youthful breasts. Surgical breast correction techniques result in long-lasting breast reshaping and resizing, for results that better suit your body.
An in-depth consultation with Dr. Rockmore is an essential part of your breast reduction journey. During this initial appointment, he listens closely to understand your aesthetic goals and creates a custom treatment plan to help you achieve them.
How Much Does a Breast Reduction Cost?
The cost of a breast reduction ranges from $9,500 to $10,000 at our Latham practice near Albany, NY. This price range is all-inclusive, of anesthesia, facility, post-op care, and all office and surgeon fees. To learn more about costs associated with this procedure, schedule a consultation today.
"I am so thankful to Dr. Rockmore for the beautiful work he did for my breast reduction. I feel and look great!"

-Real patient
Read more testimonials from Dr. Rockmore's real patients.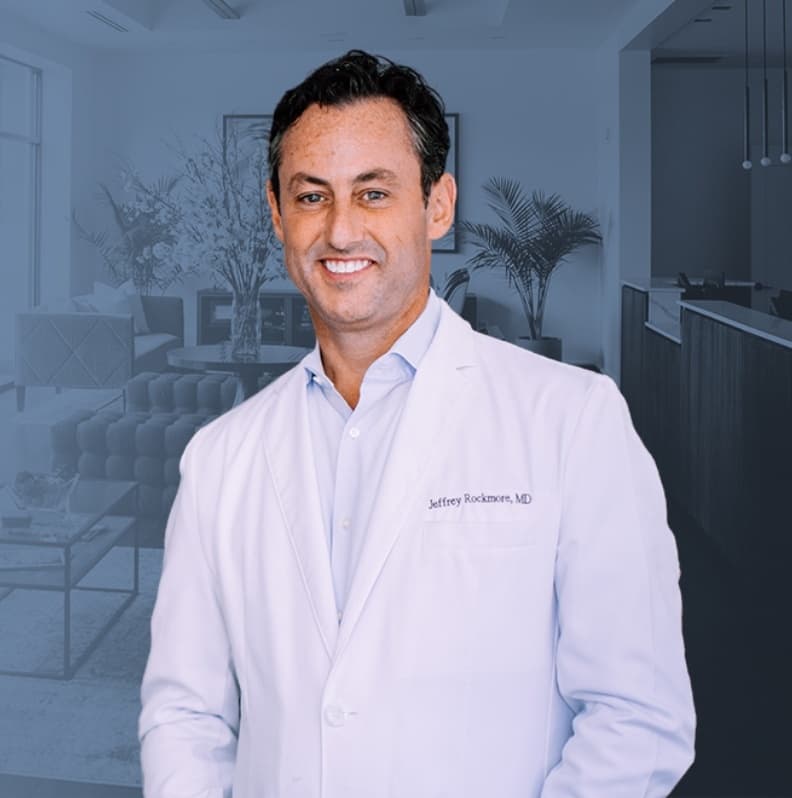 Dr. Rockmore
Board-Certified Plastic Surgeon
When you meet with Dr. Rockmore, you'll understand why men and women trust him with their plastic surgery results. His years of experience and refined aesthetic eye place him among the top plastic surgeons in the Capital Region.
Learn More How Is Breast Reduction Performed?
Dr. Rockmore performs breast reduction procedures at the fully accredited surgical center near our office. You'll be placed under general anesthesia and monitored by a board-certified anesthesiologist. There are several options for breast reduction incisions, including:
Vertical or "Lollipop": A circular incision around the areola and a vertical incision from the areola to the inframammary fold
Inverted T or "Anchor": Similar to the vertical incision with an additional horizontal incision along the inframammary fold
Dr. Rockmore then removes excess breast tissue, reshapes the areola if necessary, and tightens the skin to create a lighter, more youthful breast shape.
What Is Breast Reduction Recovery Like?
After your surgery is complete, you will be placed in a comfortable, supportive bra and can shower the following day. Most women can return to work after a week and full activities within 2 weeks. Follow-up outpatient visits may be scheduled as needed, and scars will continue to fade for up to a year. Dr. Rockmore will review all recovery tips and requirements during your consultation. The results from your breast reduction should be long-lasting if you maintain a consistent weight after your surgery.
A Reputation Built on Results
It's been a life changing experience with Dr. Rockmore and his team. I had a full TT + lipo, and my...
Rockmore plastic surgery made me feel so comfortable and it was one of the best experiences I've ever...
Dr. Rockmore has the BEST bedside manner. He spent time really getting to know me and my body and...
I have always been very self conscious about my brest. They looked so different compared to other women...
Women visit Dr. Rockmore for exceptional breast reduction results from Troy, Schenectady, Saratoga Springs, and across eastern New York. To get started, request a consultation online or call (518) 328-3330 to schedule your appointment.
Back to Top