Rockmore Plastic Surgery: Jeffrey Rockmore, MD
15 Old Loudon Road
Latham, NY 12110
Phone: (518) 328-3330
Fax: (518) 328-3337
Monday - Friday: 8 a.m.–5 p.m.

Eyelid Surgery
If the eyes are the windows to our souls, they are also the key to our age. The eyes are the focus when people talk to us, and many first impressions are based upon the look that they impart. Do your eyes make you look tired? Angry? Sleepy? As your eyelids age, these are the messages that they can send, and they are often quite different than how you feel. Eyelid surgery performed in Albany County by Latham, NY, board-certified plastic surgeon Dr. Jeffrey Rockmore can minimize wrinkles around the eyelids, correct sagging or hooding, and reduce fat pockets or dark circles under the eyes.
Eyelid surgery, or blepharoplasty, can restore the youthful look of your eyes and make you look refreshed without changing the shape of your eyes. At Rockmore Plastic Surgery, we offer upper and lower blepharoplasties through a variety of treatment options that include both surgical and nonsurgical procedures. Many of our blepharoplasties can be done in the office. Dr. Rockmore uses precision to customize each procedure for individual needs.
Are You a Candidate for Eyelid Surgery?
The eyelids are often the first area on the face to show the signs of aging. The thin skin of the eyelids loses its elasticity earlier than the thicker skin of the rest of the face. This can result in a number of different concerns. A combination of these factors can depict a tired, aged look that doesn't match how you feel on the inside.
You may be a good candidate for eyelid surgery if you have:
Wrinkles around the eyelids
Sagging or loose skin of the upper eyelids
Hooding that affects the look or function of the eyes, possibly impairing vision
Fat pockets creating bags beneath the lower eyelids
Dark circles beneath the bags
Good candidates should also be in generally good health. During your consultation, Dr. Rockmore will evaluate both your overall health and the condition of your features and make a recommendation about whether you're a good candidate.
How Much Does Eyelid Surgery Cost?
The cost of eyelid surgery ranges from $2,000 to $6,000. At our Latham practice near Albany, NY, this price range is all-inclusive of anesthesia, facility, post-op care, and all office and surgeon fees. To learn more about costs associated with this procedure, schedule a consultation today.
Why Choose Dr. Rockmore for Eyelid Surgery
Experience with over a thousand of eyelid and facial rejuvenation procedures
Ability to use a variety of techniques to individualize your procedure
Precision to delicately treat your eyelids and restore a youthful but natural look
What Is Upper Eyelid Surgery (Upper Blepharoplasty)?
As the upper eyelids age, the loose skin sags and creates a loss of eyelid shape. In many cases, the hanging skin is worse laterally, creating hooding that can limit your vision. As the loose skin worsens, it can often rest on your eyelashes. In some women and men, the eyebrows can also droop, in which case a brow lift can also be considered.
To restore the shape and appearance of the upper eyelids, surgery is needed, as there are really no significant nonsurgical options. In a blepharoplasty, the excess skin is removed through an incision hidden in the crease of the upper eyelid. If there is fat bulging in the medial eyelid, it can be removed to reshape the eyelid further. Dr. Rockmore carefully plans the amount of skin tightening to create a youthful upper eyelid while looking natural and not overly wide.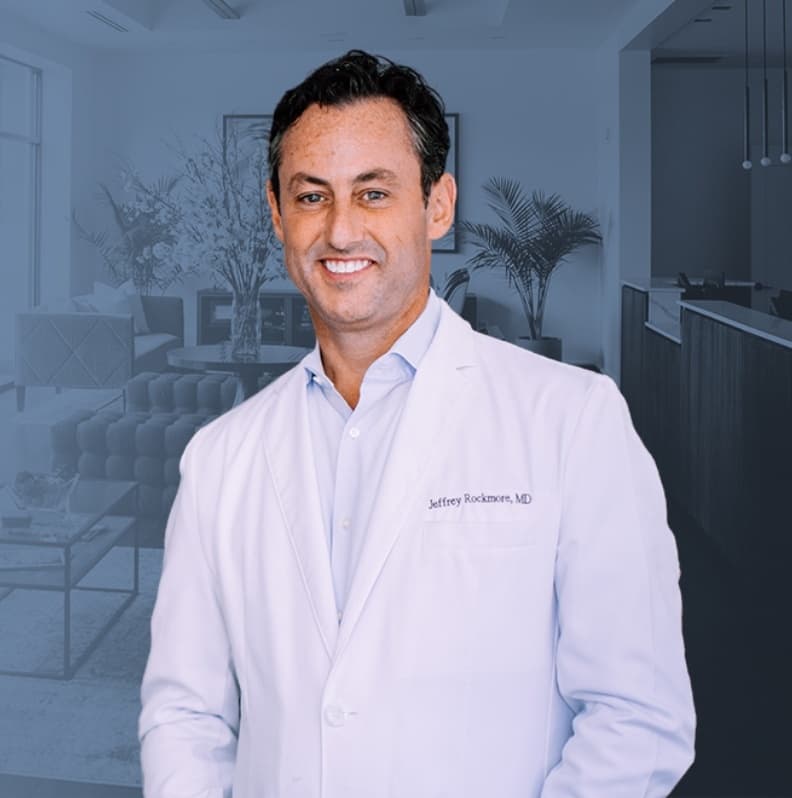 Dr. Rockmore
Board-Certified Plastic Surgeon
When you meet with Dr. Rockmore, you'll understand why men and women trust him with their plastic surgery results. His years of experience and refined aesthetic eye place him among the top plastic surgeons in the Capital Region.
Learn More What Is Lower Eyelid Surgery (Lower Blepharoplasty)?
There is much more variability in the treatment of the lower eyelids, as there is more variability of the aging changes and the shape of the eyelid. As our lower eyelids age, there can be both loose skin and fat bags of varying degrees.
Transconjunctival Blepharoplasty
This approach removes the fat bags through an incision on the inside of the eyelid. This leaves no external scar and, just as important, preserves the function of the lower eyelid muscle. This maintains the shape of the eyelid and avoids any lateral droop. If there is loose skin after the transconjunctival blepharoplasty, it can be removed with a skin-pinch blepharoplasty.
Traditional Lower Blepharoplasty
In this procedure, a flap of skin and muscle is raised from an incision hidden immediately beneath the eyelashes. This allows access to remove the fat bags and tighten the loose skin. It is often combined with a procedure to anchor the lower eyelid to prevent drooping, called a canthopexy.
Skin Pinch Blepharoplasty
When the issue is skin laxity and fine wrinkles, a skin pinch blepharoplasty can be done in the office. Under local anesthesia, a pinch of loose skin is removed from the edge of the lid immediately beneath the lashes. It is relatively quick and a powerful way to remove wrinkles of the lower lids.
Is There a Nonsurgical Alternative to Eyelid Surgery?
In addition to eyelid surgery, Dr. Rockmore offers multiple options for nonsurgical eyelid rejuvenation.
Soft-Tissue Fillers & Fat Grafting
The dark circles that develop below our lower eyelids are often a shadowing effect from under-eye bags. The circles represent a relative valley between the bulge of the fat bags and the cheek. Injectable fillers such as BELOTERO and JUVÉDERM®, hyaluronic acid fillers, or your own fat can be used to fill in this valley, blending the eyelid into the cheek and removing the shadow. This hides the fat bags and removes the dark circle without the need for surgery. While not the solution for everyone, this newer technique has become increasingly common.
Skin Resurfacing
A chemical peeling agent such as TCA can be used when there are fine wrinkles of the lower eyelids. Removal of the top layers of damaged skin allows the newer undamaged skin to come through, tightening the skin and reducing the fine lines and wrinkles. This can be done as an office procedure, but it does have some recovery time as the skin heals.
Skin Tightening
Secret™ RF microneedling and TempSure both work well to tighten skin by stimulating collagen production. Both procedures can be done right in our office and create tighter, younger-looking, more elastic skin with minimal downtime.
Dr. Rockmore tailors each of these procedures to meet your specific needs, and he can combine components of different approaches for an optimal result.
A Reputation Built on Results
It's been a life changing experience with Dr. Rockmore and his team. I had a full TT + lipo, and my...
Rockmore plastic surgery made me feel so comfortable and it was one of the best experiences I've ever...
Dr. Rockmore has the BEST bedside manner. He spent time really getting to know me and my body and...
I have always been very self conscious about my brest. They looked so different compared to other women...
How Is Eyelid Surgery Performed?
Dr. Rockmore sometimes performs this procedure at our Albany office, while more extensive eyelid surgery is done at the surgery center near our facility. He often performs isolated upper blepharoplasties in our office using local anesthesia. If you prefer, additional anesthesia like twilight anesthesia can be provided at our outpatient surgery center. Many lower blepharoplasties or combined upper and lower eyelid lifts are done at the outpatient surgery center due to the need for additional anesthesia.
On the day of your procedure, you will meet with Dr. Rockmore and have an opportunity to ask any last-minute questions. You will then undergo your procedure and awake in the recovery room. Afterward, ice will be applied to your eyelids to minimize swelling and bruising. Often, vitamins are provided to further reduce the swelling and bruising.
"I am very pleased with my facelift and eyelid surgery by Dr. Rockmore. He was always available to answer my questions during the post-surgery healing process, which included several office visits to track progress. I will return to Dr. Rockmore again."

-Real patient
Read more testimonials from Dr. Rockmore's real patients.
What Is Eyelid Surgery Recovery Like?
Once you go home, Dr. Rockmore advises that you keep your head elevated and to avoid any bending over or strenuous activity. Sleeping in a recliner or with several pillows for the first week is best. You can shower and wash your hair the next day, and you need to use ice compresses for 3 days. There is minimal discomfort with eyelid surgery in most cases, and you will be prescribed pain medications if needed.
Any swelling or bruising usually resolves after 10 to 14 days. After 2 weeks, you can resume exercise and more strenuous activities. In some people, the eyes can be dry after the surgery, and eye drops can be used to help with this.
After adequate healing time, your eyelids will reveal their youthful shape and contour. You will look bright and refreshed and feel more like yourself.
If you're looking for the best plastic surgeon to perform your eyelid surgery in Albany County, patients come from Troy, Saratoga Springs, Schenectady, and throughout eastern New York to have Dr. Rockmore perform their surgeries. You can request a consultation using the contact form or call us at (518) 328-3330 to schedule an appointment.
Back to Top