Rockmore Plastic Surgery: Jeffrey Rockmore, MD
15 Old Loudon Road
Latham, NY 12110
Phone: (518) 328-3330
Fax: (518) 328-3337
Monday - Friday: 8 a.m.–5 p.m.

Laser Treatments
A good skincare routine will improve your skin, but deep, lasting changes require professional procedures administered by trained and licensed professionals. Nonsurgical laser treatments at our Latham practice in Albany County, NY, can help you see dramatic results and restore your youthful appearance.
With no downtime, radiofrequency and laser rejuvenation therapies provide innovative solutions for dramatic results, without needles or surgery. Smooth out fine lines, reduce the appearance of wrinkles, and clear away visible signs of aging. Scars, acne, rosacea, veins, and other concerns in delicate areas can also be treated with extreme precision.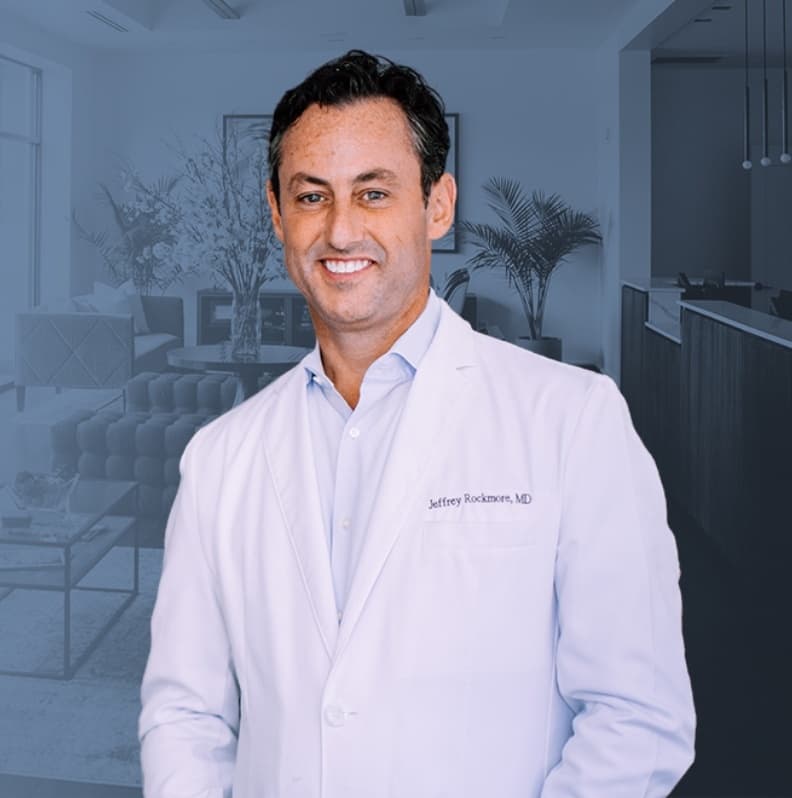 Dr. Rockmore
Board-Certified Plastic Surgeon
When you meet with Dr. Rockmore, you'll understand why men and women trust him with their plastic surgery results. His years of experience and refined aesthetic eye place him among the top plastic surgeons in the Capital Region.
Learn More TempSure Envi Skin Tightening
TempSure Envi is a radiofrequency treatment that minimizes facial fine lines and wrinkles, tightens skin, and improves the appearance of cellulite. It can be used anywhere on the body to tighten skin, including the:
Upper arms
Inner thighs
Abdomen
If excess fat in these areas is also a concern, you may choose to enhance your results with WarmSculpting or truSculpt® treatments.
How Does TempSure Envi Work?
TempSure Envi works by regenerating collagen to reduce signs of aging. The device delivers radiofrequency energy to your skin while closely monitoring the temperature of your tissues for a safe and precise treatment. There is little to no downtime involved, other than some mild skin redness that typically resolves quickly.
How Many TempSure Envi Treatments Will I Need?
Many people notice results after a single session, but most require 3 to 5 sessions spaced about a month apart to see their best results.
A Reputation Built on Results
Dr Rockmore is the best. His practice from front office staff to nursing and himself are completely...
It's been a life changing experience with Dr. Rockmore and his team. I had a full TT + lipo, and my...
Rockmore plastic surgery made me feel so comfortable and it was one of the best experiences I've ever...
Dr. Rockmore has the BEST bedside manner. He spent time really getting to know me and my body and...
Icon Lasers
Icon is a collection of lasers and light therapies that can treat a multitude of skin issues. The Icon system redefines the standard of light-based cosmetic and dermatological care. Learn about the individual treatments below.
Dark Spots
A combination of hormones and sun exposure can cause individual dark spots, also known as lentigo, or patches of pigmentation, called melasma. The Icon laser can remove these spots, resulting in clear, even skin.
Fine Wrinkles
Icon lasers can tighten the skin without creating the bleeding or oozing that ablative lasers do. It addresses acne scars and wrinkles, restoring the youthful texture of the skin. Most people opt for 3 treatments, each requiring a 1 to 2 day recovery period.
Spider Veins & Rosacea
The Icon has a specific wavelength that targets red and purple pigments in the skin, breaking them down and causing the body to reabsorb them. With this approach, spider veins and rosacea are reduced or eliminated without the need for recovery.
Laser Hair Removal
With state-of-the-art hair removal by an experienced professional, hair can be reduced to the point where shaving is no longer needed. Commonly treated areas include the armpits, bikini lines, upper lip, and male backs. Results are typically long-lasting.
Dr. Rockmore and his team select and customize each laser treatment to suit you and your cosmetic goals. During your consultation, you'll have a thorough discussion about your skin and the best solutions for you, which may include other options such as Secret™ RF or various skincare services. He'll also review any recovery or prep steps you'll need to know about before your treatment.
Men and women visit Dr. Rockmore for laser treatments from Troy, Schenectady, Saratoga Springs, and across New York. If you would like to learn more about your options, please request a consultation online or call (518) 328-3330 to schedule your appointment.
Back to Top