Rockmore Plastic Surgery: Jeffrey Rockmore, MD
15 Old Loudon Road
Latham, NY 12110
Phone: (518) 328-3330
Fax: (518) 328-3337
Monday - Friday: 8 a.m.–5 p.m.

Neck Lift
As our faces age, our necks change as well. Maybe you've lost the youthful, sharp angle between your neck and jaw. Perhaps you never had one at all. Unlike with the face, signs of aging in the neck typically can't be improved with injectable treatments; surgical procedures provide the best results. A neck lift in Albany County by Latham, NY, board-certified plastic surgeon Dr. Jeffrey Rockmore can help restore the contour and youthful look of your neck.
Without making any other changes to the face, rejuvenating a sagging or wrinkled neck can dramatically improve one's appearance. Dr. Rockmore approaches each procedure with precision and artistic vision to reveal each patient's unique beauty.
Are You a Neck Lift Candidate?
As the neck ages, 3 main factors can contribute to its change in appearance:
Fat deposits: Fat can accumulate beneath the chin in the front of the neck. This is not always associated with weight gain and can simply be a part of the fat redistribution that occurs as we age. This can create a fullness of the neck and loss of shape.
Muscle laxity: There is a flat muscle of the neck called the platysma that is responsible for maintaining its contour and its angle. Like many other tissues of our body, this can loosen as we age, leading to a loss of tautness. In addition, the borders of the muscle can separate centrally, which leads to visible bands in an aged neck.
Skin laxity: As we age, our skin loses elasticity, including the skin of the neck. The loose skin can sag and hang, giving the neck an aged look.
A neck lift corrects these issues to create an improved and youthful contour. During your consultation, Dr. Rockmore will carefully examine your neck to assess fat accumulation, muscle laxity, and loose skin to determine whether you are a good candidate. He will then discuss the options that best suit your goals.
Why Choose Dr. Rockmore for Neck Lift Surgery
Experience with a variety of neck lifting procedures, enabling him to tailor your neck lift to meet your individual needs
The creative vision to sculpt your neck to look youthful and natural
Precision and expertise to perform your neck lift safely
Types of Neck Lifts
There are a variety of different neck lift techniques, and the best results occur when Dr. Rockmore tailors the procedure to meet your individual needs.
Submental Liposuction
If fat accumulation is your primary concern, liposuction alone may be all that is needed to improve your neck. Liposuction can remove the fat beneath the chin and neck, but it relies on the skin to have enough elasticity to contract and fit your new form. The advantage of liposuction is that it has limited recovery time and leaves a minuscule scar. In limited cases, this can even be done in the office under local anesthesia, while in more involved situations, the surgery center may be a better option.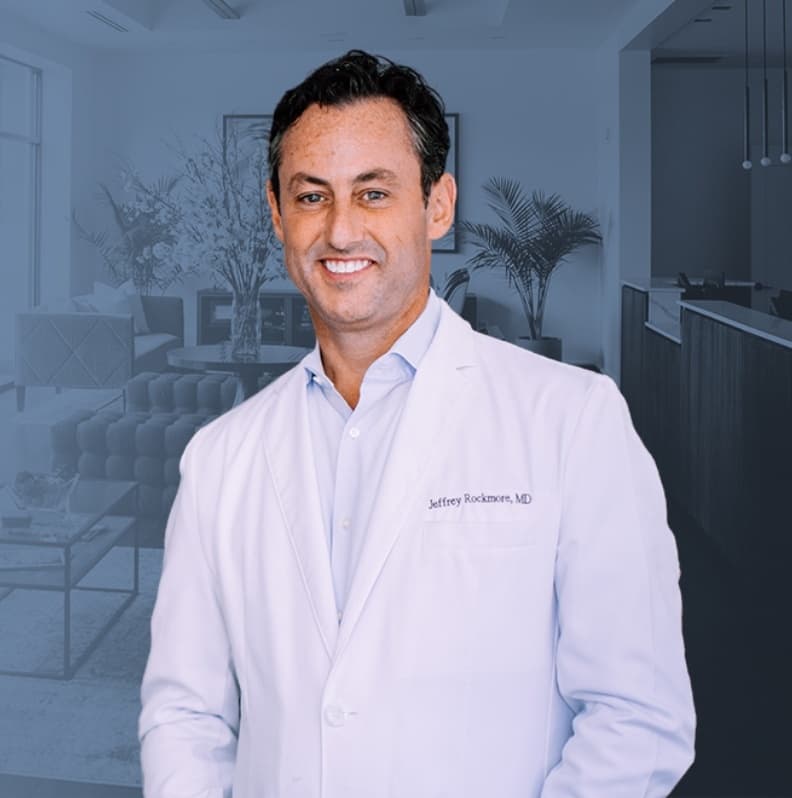 Dr. Rockmore
Board-Certified Plastic Surgeon
When you meet with Dr. Rockmore, you'll understand why men and women trust him with their plastic surgery results. His years of experience and refined aesthetic eye place him among the top plastic surgeons in the Capital Region.
Learn More Limited-Incision Neck Lift
Through a small incision hidden in the crease beneath the chin, Dr. Rockmore can remove the fat of the neck and tighten the muscle. This procedure can often be combined with liposuction for maximal effect, and it is used in cases with moderate neck ptosis, or sagging. Because only a limited amount of skin tightening can be performed, this approach is not useful when there is significant excess skin.
Full Neck Lift
A full neck lift can correct all 3 of the facets of an aging neck. Fat can be removed both above and below the platysma muscle using both liposuction and direct removal. The neck muscle can be tightened to restore the sharp angle of the neck and any bands removed. The excess skin can then be removed through incisions behind and, in some cases, around the ear. While a full neck lift has the advantage of addressing all of the issues of neck aging, it does have more recovery time and cost.
These 3 types of neck lifts are part of a spectrum rather than discrete treatments. Dr. Rockmore can combine aspects of each of these treatments to create an individualized plan for your neck that gives the best possible improvement while still looking natural.
What Is the Difference Between a Neck Lift & a Facelift?
It is sometimes confusing to tell the difference between what constitutes a neck lift versus a facelift. Neck lifts are used in women and men where the aging changes are limited to the area below the jawline. A neck lift does not improve the jowl area or treat the lower face and cheeks. If these areas are also involved in the aging process, a facelift may be a better option. The neck is lifted routinely as part of a facelift, while the face is not lifted as part of a neck lift.
KYBELLA®: Nonsurgical Treatment for a Double Chin
This nonsurgical alternative to a neck lift has been nicknamed the "double chin injection." It is the first and only injectable treatment approved by the FDA that destroys fat cells when injected. KYBELLA is a good option for those with good skin elasticity. The procedure involves a series of injections scheduled a month apart over 2 to 4 months.
How Is a Neck Lift Performed?
During your consultation, Dr. Rockmore will carefully examine your neck and listen to your concerns. He will discuss the options for your neck, including the advantages and limitations of different approaches. He will address the recovery time and answer any questions that you might have about your neck. You will then be able to meet with his staff and get a price quote.
Most neck lifts are performed at the surgery center near our office. You will come to the surgery center on the day of your neck lift and be prepared for your procedure by the nursing staff. You will have a chance to meet with Dr. Rockmore before the procedure and ask any last-minute questions. Anesthesia will be provided as needed by a board-certified anesthesiologist for your comfort and safety. After your neck lift, you will recover in the surgery center for 1.5 to 2 hours prior to being driven home by a friend or family member.
"Dr. Rockmore and his staff were extremely professional and the results of my face/neck lift exceeded my expectations. They made sure all my questions were answered and everything proceeded smoothly, from consultation to surgery to follow-up appointments."

-Real patient
Read more testimonials from Dr. Rockmore's real patients.
What Is Neck Lift Recovery Like?
The recovery from a neck lift depends on the extent of the procedure and can vary from 3 to 14 days. There are no mandates, and you can shower and wash your hair the day after your neck lift. To minimize swelling and bruising, it is best to sleep upright in a recliner and avoid bending over for 1 to 2 weeks. All activities, including workouts, can be resumed within 3 weeks.
While there is some swelling and bruising with a neck lift, this can be camouflaged with makeup. Lasers and vitamins can speed the process as well. This resolves quickly, revealing your new neck contours. You will no longer need to hide your neck with scarves and turtlenecks and can now be both comfortable and confident with your looks.
A Reputation Built on Results
It's been a life changing experience with Dr. Rockmore and his team. I had a full TT + lipo, and my...
Rockmore plastic surgery made me feel so comfortable and it was one of the best experiences I've ever...
Dr. Rockmore has the BEST bedside manner. He spent time really getting to know me and my body and...
I have always been very self conscious about my brest. They looked so different compared to other women...
How Much Does a Neck Lift Cost?
The cost of a neck lift ranges between $8,000 and $9,500. This price range is all-inclusive, of anesthesia, facility, post-op care, and all office and surgeon fees. To learn more about costs associated with this procedure, schedule a consultation today.
Dr. Rockmore performs neck lift surgery at his Albany County practice for men and women from Troy, Schenectady, Saratoga Springs, and throughout eastern New York. You can request a consultation using the online form or call our office at (518) 328-3330 to schedule an appointment.
Back to Top