Rockmore Plastic Surgery: Jeffrey Rockmore, MD
15 Old Loudon Road
Latham, NY 12110
Phone: (518) 328-3330
Fax: (518) 328-3337
Monday - Friday: 8 a.m.–5 p.m.

Rhinoplasty for Troy, NY
The nose is at the center of the face, and it's one of the first things people notice when they see you. Sometimes, the nose is in balance with the rest of the face, and everything works together nicely. Unfortunately, for many of us, the shape or contour of the nose doesn't harmonize with the rest of the face. It could be a bump on the bridge, or the tip could be too round, or the nose may stick out too far from the face. With rhinoplasty (nose surgery) in Latham, NY, near Troy and Albany, board-certified plastic surgeon Dr. Jeffrey Rockmore can sculpt your nose to fit your face.
Because every nose is unique, Dr. Rockmore creates a customized surgical plan for each patient. He believes that an honest, open dialogue coupled with a careful physical examination of the nose produces the best outcomes, rather than using computer-generated images.
What Is a Rhinoplasty?
Rhinoplasty is a plastic surgery procedure that improves the appearance of the nose, corrects breathing issues, or both. Often referred to as a "nose job," rhinoplasty is a highly customizable surgery to enhance both the appearance and functionality of the nose.
Who Is a Candidate for Rhinoplasty?
Patients seek rhinoplasty for a variety of reasons. Some noses change shape after an injury. Some noses simply develop a shape that is out of balance with the face. Common reasons for considering a nasal reshaping include:
Dorsal Hump
This is a bump on the bridge of the nose that can give the nose a hook shape. The height of the nasal bridge and its contour are determined by the underlying bone and cartilage of the septum. Dr. Rockmore corrects this by trimming the height of the cartilage of the septum and the nasal bones.
Bulbous Tip
The tip of the nose can be overly round. The shape of the tip is determined by the underlying tip cartilage, which can be too round or too large. Rhinoplasty reduces the width of the tip and changes its shape with sutures.
Size
The nose can be out of proportion with the rest of the face in its length, width, or projection from the cheeks (height). In many cases, it is a combination of all 3. Dr. Rockmore carefully shapes the underlying nasal structure to create facial harmony.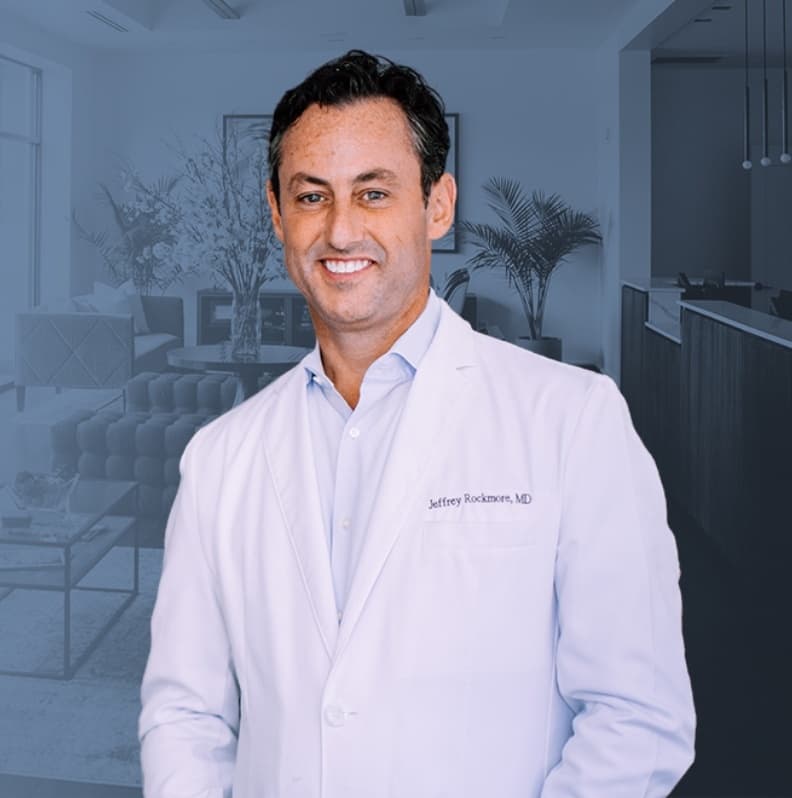 Dr. Rockmore
Board-Certified Plastic Surgeon
When you meet with Dr. Rockmore, you'll understand why men and women trust him with their plastic surgery results. His years of experience and refined aesthetic eye place him among the top plastic surgeons in the Capital Region.
Learn More Crooked Nose
Noses can grow crookedly or they can become crooked after an injury. This concern has many components, including both the septum and the nasal bones.
Deviated Septum
Septoplasty procedures correct a deviated septum. The septum is the wall that separates your nostrils, and a deviated or crooked septum impacts the nasal airway, causing difficulty breathing and sleeping. Septoplasty surgery removes some of the cartilage to open your airway, allowing you to breathe. It does not alter the external appearance of the nose.
Rhinoplasty can enhance the size and shape of your nose to fit the rest of your face. Not every face is the same, nor should every nose be. Dr. Rockmore takes an individualized approach to sculpt your nose and ensure results look natural.
During your consultation, you will discuss what bothers you about your nose. Dr. Rockmore will carefully examine your nose and then explain the specific options for your treatment. As he no longer believes that computer-generated images give an accurate depiction of what your nose will look like, they are not used. Rather, an open dialogue between you and Dr. Rockmore will address the goals of your procedure and the result you can expect.
Why Choose Dr. Rockmore for Rhinoplasty
Experience with thousands of nasal surgeries performed over more than 20 years in practice
Artistic vision to carefully craft your rhinoplasty to fit your face and provide a natural look
Technical expertise to safely perform your surgery and give you the nose of your dreams
Frequently asked to perform revision rhinoplasty to correct noses done elsewhere due to his expertise and experience
How Much Does Rhinoplasty Cost?
The cost of a rhinoplasty ranges from $7,500 to $8,500 at our Latham practice in Albany County, NY. This price range is all-inclusive of anesthesia, facility, post-op care, and all office and surgeon fees.
How Is Rhinoplasty Surgery Performed?
Dr. Rockmore performs nasal surgeries at the fully accredited surgery center near our office. You will meet with him immediately before your procedure, and you can ask any last-minute questions. The procedure is done under general anesthesia provided by a board-certified anesthesiologist.
What Is the Difference Between Open and Closed Nose Surgery?
There are 2 types of rhinoplasty: an open and a closed technique.
Closed rhinoplasty: This approach, which uses incisions within the nostrils, is appropriate for noses that require minimal adjustment of the tip. If there is an isolated bump, and the majority of the enhancement is focused on the bridge of the nose, a closed, or endonasal, approach may be used.
Open rhinoplasty: For most people, improvement of the tip of the nose is also desired. In this case, an open rhinoplasty is a better option. This leaves a small, well-concealed scar on the columella that fades nicely.
Dr. Rockmore tailors each of these approaches to meet your individual needs.
Liquid Rhinoplasty: The "Nonsurgical Nose Job"
For patients looking for an alternative to surgical rhinoplasty, Dr. Rockmore specializes in liquid rhinoplasty. This nonsurgical approach utilizes injectable fillers to address nasal bumps and humps as well as moderately reshape and straighten the nose. The injectables can also be used to improve the shape, size, and position of the nasal tip. The procedure, which takes just minutes, is performed right in our office and has no recovery time.
Liquid rhinoplasty results typically do not last as long as surgical rhinoplasty results. Surgical results last a lifetime, whereas nonsurgical nose job results generally last between 6 months and 2 years.
"My rhinoplasty was a comfortable and worthwhile operation, and I am impressed with his quality of work, which I consider to be flawless."

-Real patient
Read more testimonials from Dr. Rockmore's real patients.
What Can I Expect After Rhinoplasty?
After your procedure, you will have a small plastic splint in place but can shower the day after your rhinoplasty. You will be asked to keep your head elevated for a week after your surgery and avoid heavy glasses and sunglasses while your nose heals.
How Long Does It Take to Recover From a Nose Job?
Most rhinoplasty patients can return to work within 10 days and are back to exercise within 2 weeks.
Your nose will continue to soften and heal over time. Before you know it, your reshaped nose will be a part of your new and improved look, and you can forget that it was ever any other way.
A Reputation Built on Results
It's been a life changing experience with Dr. Rockmore and his team. I had a full TT + lipo, and my...
Rockmore plastic surgery made me feel so comfortable and it was one of the best experiences I've ever...
Dr. Rockmore has the BEST bedside manner. He spent time really getting to know me and my body and...
I have always been very self conscious about my brest. They looked so different compared to other women...
Dr. Rockmore performs rhinoplasty surgeries for men and from Troy, Schenectady, Saratoga Springs, and across New York. If you're looking for a rhinoplasty performed by one of the best plastic surgeons in Albany County, NY, request a consultation using the contact form or call our practice at (518) 328-3330 to schedule an appointment.
Rhinoplasty FAQs
Is nose surgery safe?
When performed by a board-certified plastic surgeon, rhinoplasty is generally a low-risk procedure. While rare, potential complications include infection and changes in skin sensation around the nose. Dr. Rockmore and his surgical team take every precaution to keep your risk of complication low.
Will my rhinoplasty results be permanent?
Yes, your surgical rhinoplasty results last a lifetime. Nonsurgical rhinoplasty results typically last between 6 months and 2 years.
What is the best age to get a nose job?
Nose jobs are beneficial for people of many different ages. Younger people can have the procedure done as soon as their features are finished developing, which is typically in the teen years. Many people choose to have rhinoplasty at this age because it allows them to live the rest of their lives with a nose that better suits their features and feels more like "them." However, you can have nose surgery done at just about any age.
Back to Top