Rockmore Plastic Surgery: Jeffrey Rockmore, MD
15 Old Loudon Road
Latham, NY 12110
Phone: (518) 328-3330
Fax: (518) 328-3337
Monday - Friday: 8 a.m.–5 p.m.

Body Contouring After Weight Loss
We see many patients who have lost a significant amount of weight, either through diet and exercise or bariatric surgery. While it is a great and difficult accomplishment, one of the unfortunate side effects is that the skin loses the elasticity to shrink and fit your new body. No amount of exercise can get rid of the loose skin; clothes don't fit well; and for many, it feels like the job is unfinished. You can enhance your hard-earned shape with a body lift in Latham with Albany County, NY, plastic surgeon Dr. Jeffrey Rockmore.
Dr. Rockmore can combine multiple procedures during a single surgery to minimize both cost and recovery time. These body contouring procedures include a circumferential body lift, thigh lift, arm lift, and breast lift, among other customizable options.
Body Contouring After Weight Loss

Before & After Photos
WARNING:
This feature contains nudity. Please click OK to confirm you are at least 18 years of age and are not offended by such material.
OK
Body Contouring After Weight Loss

Before & After Photos

Keep in mind that each patient is unique and your results may vary.

Keep in mind that each patient is unique and your results may vary.
Are You a Candidate for Body Contouring After Weight Loss?
It's common to become interested in surgery as soon as you begin to notice loose skin, but it's important to move forward with your procedure at the right point in your weight-loss journey. Further volume loss after the skin is tightened can lead to more sagging that may alter your results and potentially even warrant another procedure. Because of this, it's best to wait until you are at or very near your goal weight to schedule your surgery.
Which Procedures Are Most Popular for Body Contouring After Weight Loss?
There are many procedures that can be done after weight loss to tighten your skin and help you feel better about your new body. During your consultation, Dr. Rockmore will discuss what you most want to improve and create a customized treatment plan that helps you reach those goals.
Tummy Tuck
The abdomen is typically a primary area of concern after weight loss. Loose skin on the tummy is a common source of frustration for people who have worked hard to achieve slimmer, flatter midsections and want to be able to wear swimsuits or revealing outfits confidently. A tummy tuck helps resolve this issue by removing excess skin on the abdomen, using an incision low across the hip bones to tighten the remaining skin.
Circumferential Body Lift
For many people who lose weight in the midsection, skin laxity extends beyond the abdomen and around the torso. A circumferential body lift removes this excess skin while also lifting the flank, lateral thigh, and buttock. If there is significant laxity horizontally as well as vertically, the lift can be modified to include a central vertical removal of skin. The circumferential body lift creates a dramatic effect on your body and is an especially popular option for post weight loss patients.
Breast Lift
Breasts can drastically change after weight loss. As they lose volume, they deflate and sag. During a breast lift, Dr. Rockmore removes and tightens excess skin to create lifted, reshaped, and repositioned breasts that sit higher on the chest. Many women are also looking to restore lost volume in the breasts, which Dr. Rockmore achieves by combining a breast lift with a breast augmentation, often called a breast lift with implants.
Arm Lift
Also known as a brachioplasty, an arm lift removes the excess skin and fat hanging from your armpit area to your elbow, creating a sleeker and more toned appearance. Incisions will depend on the amount and location of excess skin, but most are placed on the inside of the arm.
Thigh Lift
A medial thigh lift removes excess skin and fat on the inner thigh from the groin area to the knee. While the circumferential body lift tightens and lifts the lateral thigh, it doesn't help the medial thigh or correct the laxity of the thigh circumference. During your consultation, Dr. Rockmore will discuss your specific needs and how he can best improve the size and shape of your legs.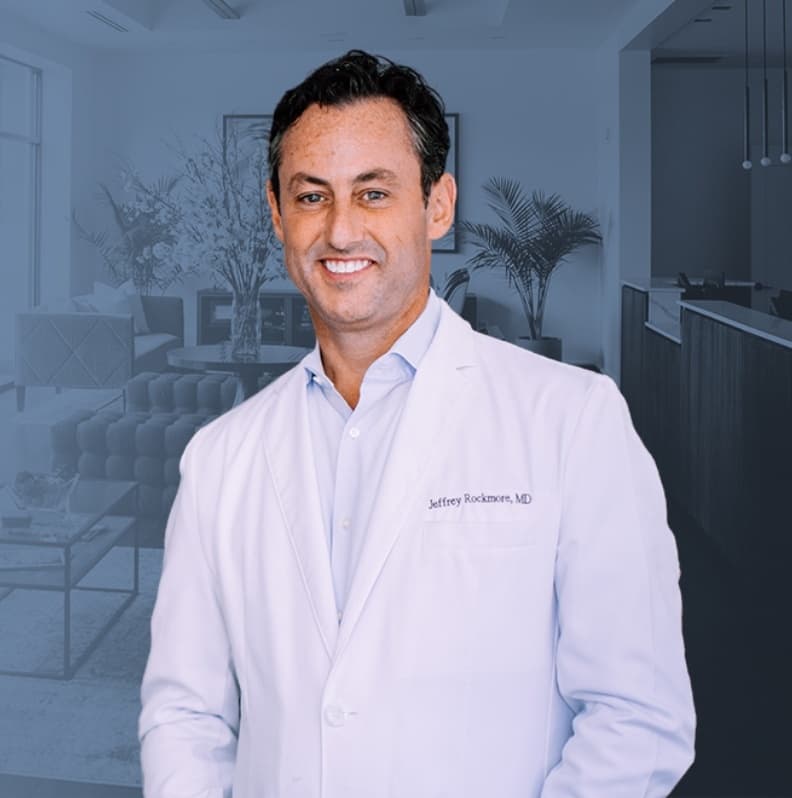 Dr. Rockmore
Board-Certified Plastic Surgeon
When you meet with Dr. Rockmore, you'll understand why men and women trust him with their plastic surgery results. His years of experience and refined aesthetic eye place him among the top plastic surgeons in the Capital Region.
Learn More How Much Does Body Contouring Surgery After Weight Loss Cost?
The cost of a body lift can range from $16,000 to $20,000 at our Latham practice near Albany, NY. This price range is all-inclusive, of anesthesia, facility, post-op care, and all office and surgeon fees. The price of other procedures or combinations of procedures is tailored to your needs and dependent on many different factors. To learn more about costs associated with post weight loss surgery, schedule a consultation today.
Will I Need Multiple Body Contouring Surgeries After Weight Loss?
Body lifts are customized procedures—some people may want a single area treated, while others need all 4 areas contoured. In this instance, Dr. Rockmore typically combines procedures to accomplish everything in 2 stages. This keeps you as safe as possible while still limiting the number of surgeries necessary. There are a variety of combinations, and Dr. Rockmore will discuss what he thinks will work best for you.
Are There Nonsurgical Alternatives for Body Contouring After Weight Loss?
For anyone with significant skin sagging after weight loss, plastic surgery is typically the most effective option. However, some nonsurgical procedures can enhance or fine-tune your results, including:
Dr. Rockmore will answer questions about these alternatives and make any appropriate recommendations as part of your in-depth discussion about your treatment plan.
What Is Body Contouring After Weight Loss Recovery Like?
These procedures are performed under general anesthesia in an outpatient facility so you can go home the same day and recover comfortably at home. During the consultation, Dr. Rockmore will give you an accurate description of what to expect during recovery, including the amount of discomfort. We recommend renting a recliner if you do not have one at home.
Depending on your job requirements, most patients take off about 2 weeks from work and return to normal activities after 6 weeks. While dramatic changes will be visible almost immediately, it may take 6 weeks to 6 months to see the final outcome.
A Reputation Built on Results
Dr Rockmore is the best. His practice from front office staff to nursing and himself are completely...
It's been a life changing experience with Dr. Rockmore and his team. I had a full TT + lipo, and my...
Rockmore plastic surgery made me feel so comfortable and it was one of the best experiences I've ever...
Dr. Rockmore has the BEST bedside manner. He spent time really getting to know me and my body and...
Dr. Rockmore performs body lift surgery at his Albany County practice for patients who travel from Troy, Schenectady, Saratoga Springs, and throughout eastern New York. You can request a consultation or call our office at (518) 328-3330 to schedule an appointment.
Back to Top