Rockmore Plastic Surgery: Jeffrey Rockmore, MD
15 Old Loudon Road
Latham, NY 12110
Phone: (518) 328-3330
Fax: (518) 328-3337
Monday - Friday: 8 a.m.–5 p.m.

Mommy Makeover for Troy, NY
A mommy makeover combines procedures designed to restore your body after having children. Dramatic changes occur both during and after pregnancy that cause many women to lose confidence in their appearance. Sagging, deflated breasts, stubborn body fat, and excess abdominal skin can all be addressed in a single mommy makeover surgery at our Latham plastic surgery practice serving Albany and Troy, NY.
Board-certified plastic surgeon Dr. Jeffrey Rockmore customizes your surgical plan after consulting with you and performing a physical exam. No two bodies are the same, and mommy makeovers are highly personalized for each patient. Dr. Rockmore creates a custom treatment plan that achieves your goals and helps you feel like yourself again.
Mommy Makeover

Before & After Photos
WARNING:
This feature contains nudity. Please click OK to confirm you are at least 18 years of age and are not offended by such material.
OK
Mommy Makeover

Before & After Photos

Keep in mind that each patient is unique and your results may vary.

Keep in mind that each patient is unique and your results may vary.
What Is a Mommy Makeover?
A mommy makeover is a custom combination of plastic surgery procedures designed to enhance the breasts and contour the body, especially after pregnancy. The procedures Dr. Rockmore typically combines for his mommy makeover patients include:
All of these procedures can be done at the same time as an outpatient operation in most cases. The advantages of combining the procedures are that the recovery times are combined, the cost is less, and the entire area of the body affected by your pregnancy is improved at once.
How Much Does a Mommy Makeover Cost?
The cost of a mommy makeover ranges from $17,000 and $22,000 at our Latham practice serving Troy and Albany, NY. This price range is all-inclusive of anesthesia, facility, post-op care, and all office and surgeon fees. To learn more about costs associated with this procedure, schedule a consultation today.
Breast Enhancement Surgery
The breasts change dramatically during pregnancy, and they often continue to change their shape for some time afterward. For many women, there is often a loss of volume, which can accentuate sagging, or ptosis, of the breasts. Dr. Rockmore can place breast implants as part of a mommy makeover, to restore the volume of the breasts and to enhance their shape. This can bring back the superior volume, or fullness above the bra line, that you used to have. No longer will you have the space between the top of the bra and your skin.
A lift can then be added, if necessary, to treat any sagging that you have. This repositions the nipple on the center of the breast and lifts the breasts to where they once were. Although the tradeoff is some scars, they usually fade over time and allow a youthful, natural look.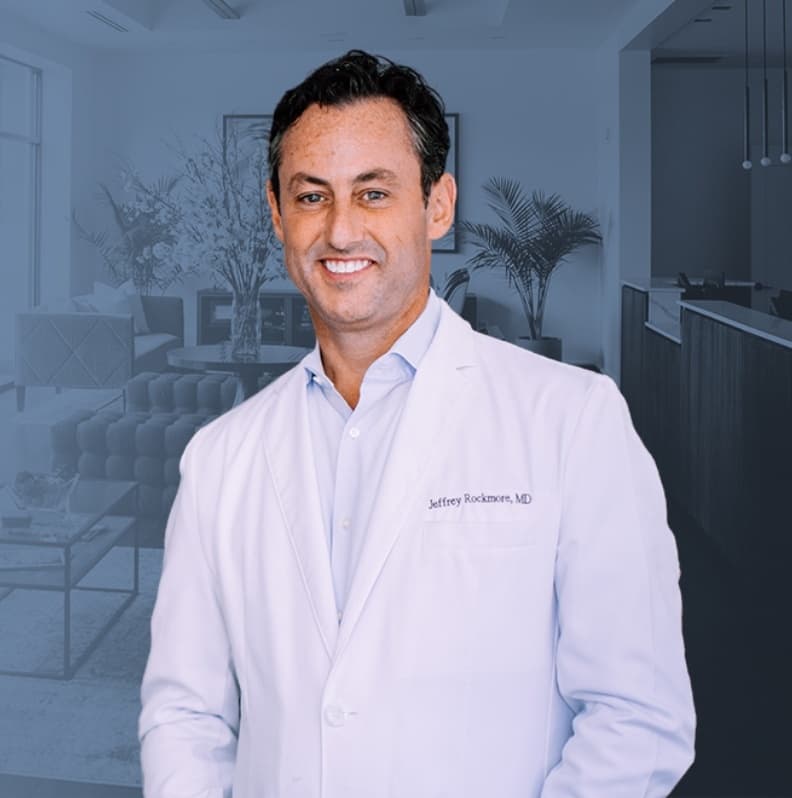 Dr. Rockmore
Board-Certified Plastic Surgeon
When you meet with Dr. Rockmore, you'll understand why men and women trust him with their plastic surgery results. His years of experience and refined aesthetic eye place him among the top plastic surgeons in the Capital Region.
Learn More Tummy Tuck
Your abdomen also goes through tremendous changes with pregnancy. Both the skin and the muscles stretch to accommodate your growing baby. Unfortunately, they often do not have enough elasticity afterward to shrink back to their old form. This leaves loose skin with stretch marks often hanging over your waistline. The laxity of your muscles leaves the lower belly "pooch," which tends not to respond to exercise.
These changes require a tummy tuck to bring back your flat belly. A tummy tuck tightens the underlying muscles to create a flat foundation, then removes the excess skin to improve the lower stretch marks and laxity. There are several kinds of tummy tucks, including mini-tummy tucks, full tummy tucks, and extended tummy tucks. The choice depends on the amount of loose skin and the degree of muscle laxity. This allows Dr. Rockmore to tailor the procedure to fit your individual needs.
Liposuction
Liposuction is often added to the procedure to remove areas of unwanted fat. It is quite common to have some areas of fat after pregnancy that don't respond to your weight loss attempts. Your metabolism changes after pregnancy and as you mature, often as the result of shifts in your hormones. You can be left with areas of fat that change your shape and contour. Liposuction can be used to permanently treat the areas and sculpt them so that your curves are restored. Areas commonly treated with liposuction in a mommy makeover include the thighs, hips, flanks, back, and belly.
A Reputation Built on Results
Dr Rockmore is the best. His practice from front office staff to nursing and himself are completely...
It's been a life changing experience with Dr. Rockmore and his team. I had a full TT + lipo, and my...
Rockmore plastic surgery made me feel so comfortable and it was one of the best experiences I've ever...
Dr. Rockmore has the BEST bedside manner. He spent time really getting to know me and my body and...
Brazilian Butt Lift
It is very common for patients to combine a Brazilian butt lift with their mommy makeover. Pregnancy can impact the buttocks in a way that no amount of exercise can reverse. As a component of your mommy makeover, a buttocks augmentation can create drastic improvements to your overall appearance. This procedure typically involves harvesting fat from one area of the body via liposuction and injecting it into the buttocks for a fuller, rounder shape.
Dr. Rockmore can also add facial surgery or skin procedures to your customized mommy makeover for an overall transformation.
"I have had an extremely positive experience with Dr. Rockmore. From Day 1, I felt comfortable and confident with him. I met with other surgeons, but after careful research, chose Dr. Rockmore, and I am so glad that I did. I am very happy with the results from my Mommy Makeover. Dr. Rockmore answered all of my questions and made me feel at ease. His staff is excellent also. I will recommend him to my family and friends."

-Real patient
Read more testimonials from Dr. Rockmore's real patients.
How Is a Mommy Makeover Performed?
Dr. Rockmore performs mommy makeover surgery as an outpatient procedure at the surgery center near our Latham, NY, office. The amount of time for the procedure depends on the extent of the surgical options, typically ranging from 2 to 4 hours. It is done using general anesthesia administered by a board-certified anesthesiologist.
What Can I Expect After Mommy Makeover Surgery?
After surgery, you will be placed in a bra and an elastic binder for your stomach. There are usually 1 to 2 drains that are in place for a week and are easily cared for. You can shower the next day and need to take short walks around the house.
The most comfortable way to recover from a mommy makeover is in a recliner. Sleeping in a recliner will keep the tension off your stomach, and it is easier to get out of a recliner than a bed. If you do not have one, a chair with an ottoman or several pillows can be substituted.
How Long Does It Take to Recover From a Mommy Makeover?
Most mommy makeover patients can return to work in 10 to 14 days depending on the type of work they do. Patients typically can drive within 10 days as long as they are no longer taking prescription pain medication. Heavy lifting needs to be avoided for 4 to 6 weeks to allow the abdominal area to heal.
Over time, your scars will fade and your new shape will become apparent. A mommy makeover will allow you to fit in the clothes that you used to and feel comfortable with your body again.
Why Choose Dr. Rockmore for Mommy Makeover Surgery
Experience with thousands of breast and body contouring procedures
Artistic vision to see the possibilities of what your body was and could be
Expertise to perform your surgery safely and provide the results you were dreaming of
Mommy makeovers require the experienced hands of only the best plastic surgeons. Women visit our Latham practice in Albany County from Troy, Schenectady, Saratoga Springs, and throughout eastern New York to have Dr. Rockmore perform their surgeries. You can request a consultation using the contact form or call our office at (518) 328-3330 to schedule an appointment.
Mommy Makeover FAQs
Are there BMI requirements for a mommy makeover?
There is no specific BMI required. Dr. Rockmore views every person and situation individually. More important than the absolute BMI number is your overall health and how your weight may affect the safety of the procedure or the result.
Can I still get pregnant after a mommy makeover?
A mommy makeover will not affect your ability to get pregnant in any way. However, it's typically best to wait until you are finished having children to have this procedure. This is because future pregnancies may cause changes to your breasts and abdomen that may compromise the appearance of your results.
Are mommy makeovers worth it?
The question of whether a mommy makeover is worth it is a personal one, and the answer varies from person to person. However, it is worth noting that mommy makeovers have one of the highest patient satisfaction rates of any plastic surgery procedure. The surgery provides such comprehensive, effective improvements in a single procedure that many women do find their results to be very much worth it.
Back to Top