Rockmore Plastic Surgery: Jeffrey Rockmore, MD
15 Old Loudon Road
Latham, NY 12110
Phone: (518) 328-3330
Fax: (518) 328-3337
Monday - Friday: 8 a.m.–5 p.m.

Breast Lift
Over the course of their lives, gravity and aging will cause most women to develop sagging, drooping, or loss of fullness in their breasts. Pregnancy or weight loss can also leave women with deflated, sagging breasts. Fortunately, board-certified plastic surgeon Dr. Jeffrey Rockmore specializes in breast lift surgery at his Latham practice in Albany County, NY. This procedure brings a youthful perkiness back to your silhouette by reshaping and repositioning the breasts.
At your consultation, Dr. Rockmore physically examines the quality and tone of the breast skin and evaluates the sagging (ptosis). Various techniques can be used for breast lift surgery (also called mastopexy), and you can discuss the type of breast lift options based on the degree of ptosis, the size of your breasts, the elasticity of your skin, and the shape you desire.
Breast Lift

Before & After Photos
WARNING:
This feature contains nudity. Please click OK to confirm you are at least 18 years of age and are not offended by such material.
OK
Breast Lift

Before & After Photos

Keep in mind that each patient is unique and your results may vary.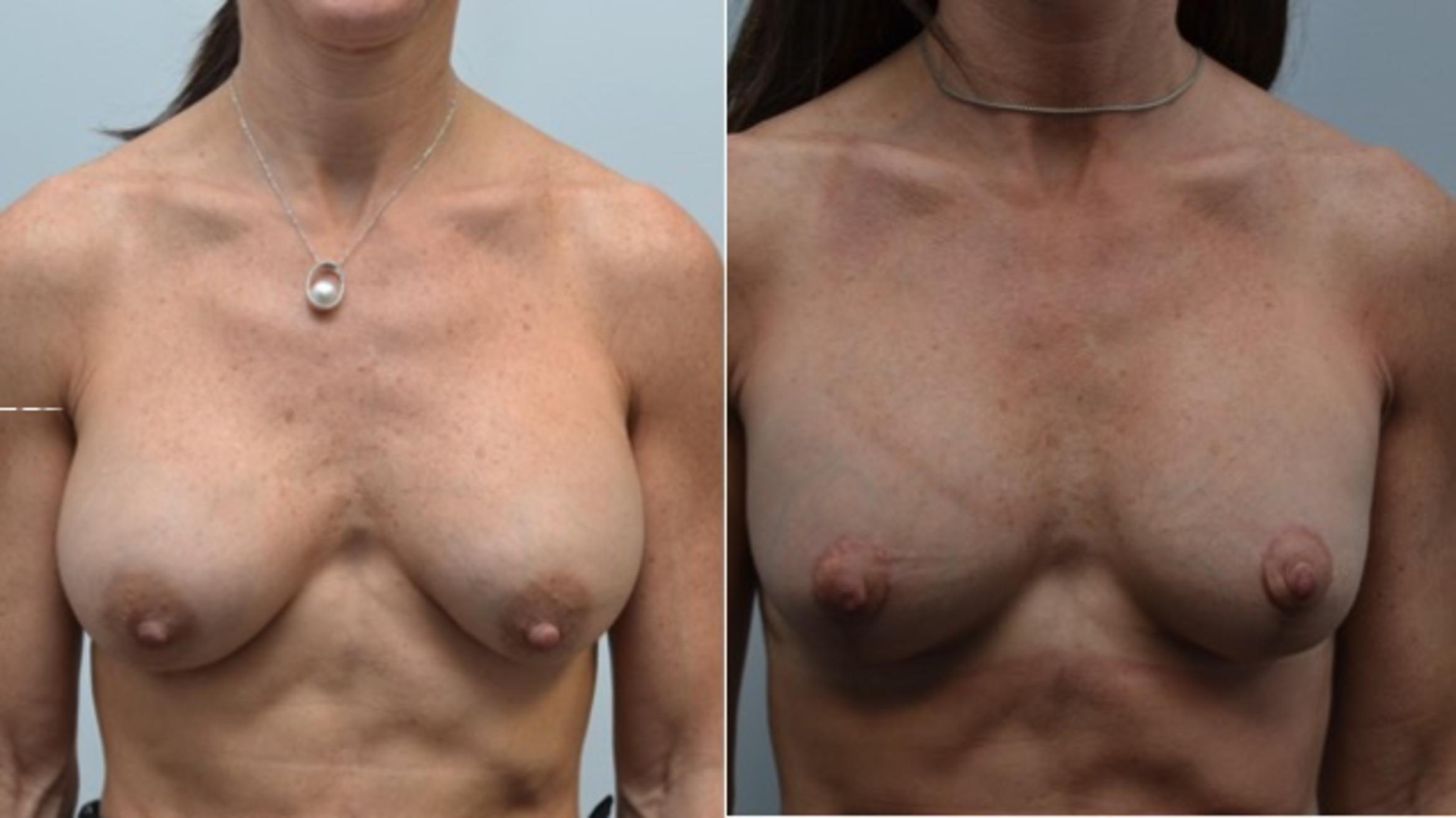 Before & After
Case #251
This 49 year old patient had a previous breast augmentation 5 years ago by a different doctor and was not happy with the results. She was hoping to have smaller, perkier breasts. To achieve what the patient wanted, I removed the old saline implants and put in 240 cc textured moderate profile silicone implants in addition to performing a breas...
Read More
Keep in mind that each patient is unique and your results may vary.
What Causes Sagging Breasts?
Dr. Rockmore has treated thousands of women, and he knows each breast lift patient is unique. Behind each woman is a different lifestyle, a different medical and genetic history, and a different motivation for seeking surgery. Nonetheless there are some common causes behind the sagging that these patients aim to correct. The most common causes of breast sagging include:
Gravity: Gravity affects our breasts much like it affects the rest of our bodies. As we age, the suspensory tissues that hold up our breasts loosen and no longer hold the breasts in their youthful position. The skin becomes stretched, and the breasts sag.
Loss of breast volume: As women age, they can lose breast volume. This has the result of deflating the breasts. The skin typically does not have enough elasticity to contract to the new breast volume, and the breasts sag.
Pregnancy: The breasts become engorged during pregnancy, then shrink down afterward. In many women, the breasts are smaller after, leading to some deflation and sagging.
Weight loss: Breast size can vary with weight fluctuations. With significant weight loss, the breasts can lose volume and become deflated, leading to sagging.
One or more of these components can lead to sagging breasts. In some women, sag can develop at a young age without any of these causes being present.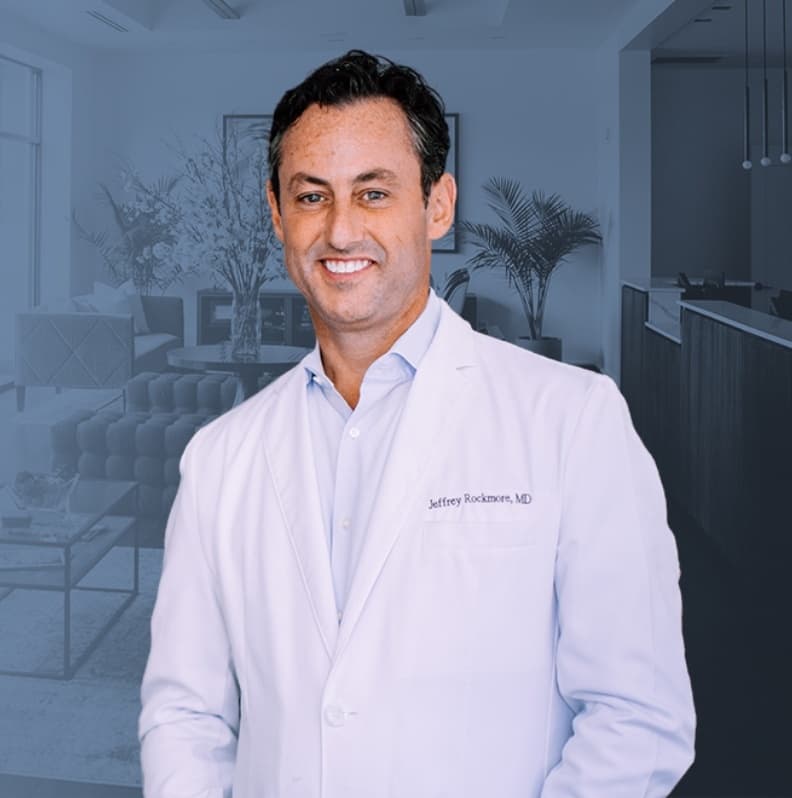 Dr. Rockmore
Board-Certified Plastic Surgeon
When you meet with Dr. Rockmore, you'll understand why men and women trust him with their plastic surgery results. His years of experience and refined aesthetic eye place him among the top plastic surgeons in the Capital Region.
Learn More Types of Breast Lifts
At your consultation, Dr. Rockmore will ask you questions and perform an examination to evaluate your level of ptosis. The amount of sag is measured in degrees, from first to third degree. There are a variety of breast lifting procedures, including:
Breast augmentation: When there is mild or first-degree ptosis, placement of breast implants alone can sometimes restore the upper, or superior, volume of the breast and provide sufficient lift.
Crescent lift: This method can be used to slightly elevate the nipple position. It leaves a scar on the edge of the areola on its top portion.
Periareolar lift: This technique can be used to treat mild degrees of ptosis or laxity, and it is also referred to as a Benelli mastopexy. A doughnut-shaped portion of skin is removed from around the areola, creating some tightening of the skin of the breast. The degree of lifting effect is limited, so this option can be used for only mild degrees of ptosis.
Vertical mastopexy: This is a more powerful lifting technique used when there is more significant sagging. It results in a scar around the areola and straight down like a lollipop, and it can be used to treat mild to moderate degrees of sag.
Full mastopexy: This method is used for more significant types of sag and allows for maximum lifting and reshaping of the breast. The resultant scar is around the areola, straight down, and then along the crease of the breast in an anchor configuration.
During the consultation, Dr. Rockmore will assess your breasts and discuss the options that will work best for your unique needs.
How Much Does a Breast Lift Cost?
The cost of a breast lift at our practice in Latham near Albany, NY, ranges between $9,000 and $10,000. This price range is all-inclusive of anesthesia, facility, post-op care, and all office and surgeon fees.
Why Choose Dr. Rockmore for Breast Lift Surgery
Vast experience with thousands of breast procedures
Ability to use a variety of lifting procedures to meet your individual needs, developed in his more than 15 years of experience with an array of different breast sizes and shapes
The artistic vision and surgical skill to make your breasts youthful and natural
Combining Breast Lift & Augmentation
In many women, Dr. Rockmore places breast implants at the same time as the lift. The advantages of combining breast augmentation with a breast lift are:
An improved breast shape
Longer-lasting superior fullness, or fullness above the bra line
Replacement of the volume lost from pregnancy, weight changes, or maturation of the breasts
The implants can be either saline or silicone, and they do not have to be overly large. If a lift is performed without implants, the breasts can often seem smaller than they did when sagging. The implants can correct this. If you have sufficient breast tissue of your own, it may be possible or preferable to do a breast lift without implants.
How Is a Breast Lift Performed?
A breast lift is performed as an outpatient procedure at the surgery center near our office. On the day of surgery, you will meet with Dr. Rockmore, and he will mark your chest with you standing. You will then be brought to the operating room, and a board-certified anesthesiologist will administer the anesthesia for your procedure. You will then have your breast lift using one of the techniques described above.
A Reputation Built on Results
It's been a life changing experience with Dr. Rockmore and his team. I had a full TT + lipo, and my...
Rockmore plastic surgery made me feel so comfortable and it was one of the best experiences I've ever...
Dr. Rockmore has the BEST bedside manner. He spent time really getting to know me and my body and...
I have always been very self conscious about my brest. They looked so different compared to other women...
What Is Breast Lift Recovery Like?
When you wake up, you will have a bra in place that you will wear for the first week. There are no heavy wraps or compression devices, and you can shower the next day. You will recover in the surgery center for 2 hours before your friend or family member drives you home.
Although you will have pain medications prescribed, most women need them for only a couple of days at most. You should be able to drive after 2 to 3 days and slowly get back to your daily routine. Dr. Rockmore asks that you avoid strenuous activities for 2 weeks after your breast lift and avoid heavy lifting for 3 weeks.
Your breasts will have some swelling and bruising after your breast lift, which can take 1 to 2 weeks to completely resolve. Over the next couple of months, your scars will fade, and your breasts will soften. This settling process will lead to a more natural and final result—and lifted, beautiful breast contours.
"I am very happy with the results of my breast lift surgery with Dr. Rockmore. He is very pleasant, and whenever I had a question, or wanted to come into the office, he was very accommodating."

-Real patient
Read more testimonials from Dr. Rockmore's real patients.
If you're looking for the best plastic surgeon to perform your breast lift in Albany County, Dr. Rockmore sees breast lift patients from Troy, Schenectady, Saratoga Springs, and throughout eastern New York. You can use the contact form to request a consultation or call our office at (518) 328-3330 to schedule an appointment.
Back to Top