Rockmore Plastic Surgery: Jeffrey Rockmore, MD
15 Old Loudon Road
Latham, NY 12110
Phone: (518) 328-3330
Fax: (518) 328-3337
Monday - Friday: 8 a.m.–5 p.m.

truSculpt®
Achieve your slimmest, trimmest body with nonsurgical muscle toning and fat reduction. With truSculpt at our Latham, NY, practice, Albany County men and women can tone up, slim down, and feel more confident in their bodies, all without surgery.
Strengthen and define your muscles with truSculpt flex or melt away stubborn fat with truSculpt iD, both available at Rockmore Plastic Surgery.
What Is truSculpt flex?
truSculpt flex is an FDA-cleared muscle-toning treatment that uses electrical muscle stimulation to strengthen, tone, and firm the abdomen, buttocks, and thighs. By stimulating thousands of rapid muscle contractions with multi-directional stimulation (MDS), the treatment replicates intensified twists, squats, and crunches to treat as many as 8 different muscle zones at the same time.
What Is truSculpt iD?
truSculpt iD uses radiofrequency energy (RF) to selectively heat fat tissue without harming the surrounding skin or muscle. This damages the fat cells and causes your body to naturally flush them out over the next 3 months or so. It's ideal for long-lasting fat reduction in areas such as the:
Abdomen
Flanks
Upper Arms
Legs
It also offers the added bonus of moderate skin tightening in the treated areas.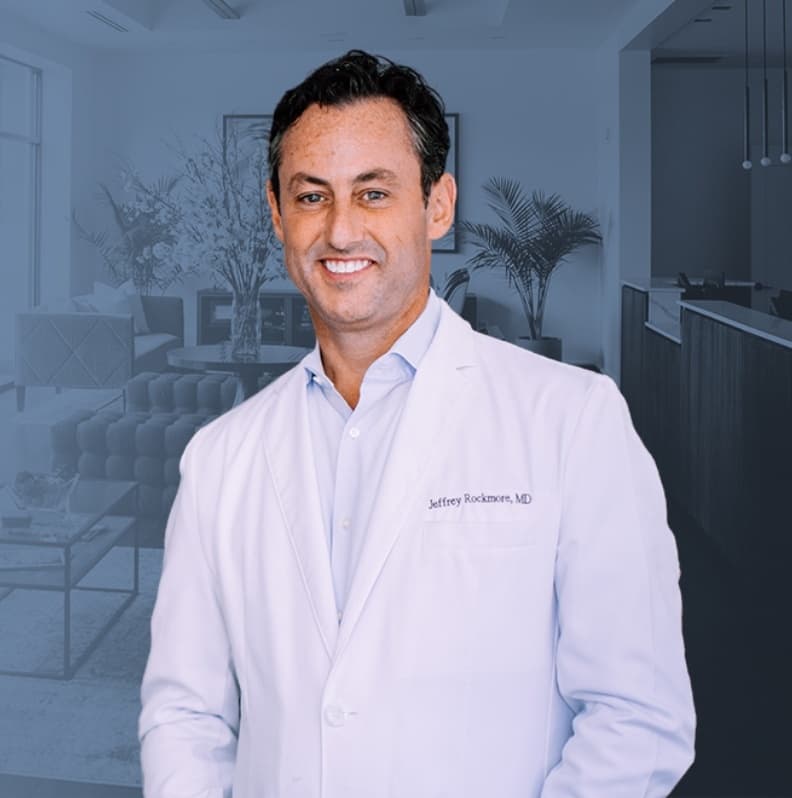 Dr. Rockmore
Board-Certified Plastic Surgeon
When you meet with Dr. Rockmore, you'll understand why men and women trust him with their plastic surgery results. His years of experience and refined aesthetic eye place him among the top plastic surgeons in the Capital Region.
Learn More Are You a Candidate for truSculpt?
An ideal truSculpt candidate is dedicated to a healthy lifestyle but wants to reduce stubborn fat deposits or build muscle tone nonsurgically. It's important to note that neither treatment is intended for weight loss, but rather for body contouring enhancements.
If you're looking for more dramatic fat reduction results, you may be a better candidate for surgical liposuction. Dr. Rockmore and his team will work closely with you during your consultation to determine the most effective option to help you achieve your goals.
What Are truSculpt Treatments Like?
Both truSculpt flex and truSculpt iD treatments are quick, noninvasive, and don't require any anesthesia.
truSculpt flex Treatments
During a truSculpt flex treatment, your provider will attach the device to your targeted area and the machine will stimulate deep muscle contractions. While it may feel a bit unfamiliar, most people do not find it painful. Each treatment takes about 45 minutes.
truSculpt iD Treatments
During a truSculpt iD treatment, your provider will use a handpiece to deliver pulses of RF heat into your targeted area while regulating your skin's temperature. You'll likely feel some deep warmth, but most people find this very tolerable. Treatments can take anywhere from 15 minutes to an hour, depending on the size of your targeted area.
A Reputation Built on Results
It's been a life changing experience with Dr. Rockmore and his team. I had a full TT + lipo, and my...
Rockmore plastic surgery made me feel so comfortable and it was one of the best experiences I've ever...
Dr. Rockmore has the BEST bedside manner. He spent time really getting to know me and my body and...
I have always been very self conscious about my brest. They looked so different compared to other women...
What Is truSculpt Recovery Like?
With both truSculpt flex and truSculpt iD, you can return to your normal routine right away.
truSculpt flex Recovery
You may feel sore for 1 or 2 days, similar to the way you would after an intense workout. Most people see their best results after 4 treatments spaced 48 hours apart.
truSculpt iD Recovery
After truSculpt iD, you may notice mild redness, swelling, or sensitivity in your treated areas, which dissipates quickly. While many people see great results after a single session, you may need an additional treatment about 4 weeks later to see your best results.
Men and women visit Dr. Rockmore for truSculpt treatments from Troy, Schenectady, Saratoga Springs, and across New York to enjoy the benefits of nonsurgical muscle toning and fat reduction. If you're interested in finding out what these treatments can do for you and your body, please request a consultation or call (518) 328-3330 to schedule your appointment.
Back to Top