Rockmore Plastic Surgery: Jeffrey Rockmore, MD
15 Old Loudon Road
Latham, NY 12110
Phone: (518) 328-3330
Fax: (518) 328-3337
Monday - Friday: 8 a.m.–5 p.m.

Facelift
A facelift typically focuses on the lower two-thirds of the face, an area where many people say they first notice signs of aging. When performed by an experienced facelift specialist, the surgery creates a refreshed, more youthful appearance. Board-certified plastic surgeon Dr. Jeffrey Rockmore performs facelift procedures at his Latham, NY, practice to help Albany County men and women reveal their most vital and rejuvenated selves.
Long considered the "go-to" facial rejuvenation procedure for men and women, today's facelifts yield better, more natural-looking results than ever before. A facelift is an excellent, lasting way to address jawline and neck sagging, restore cheek volume, and minimize wrinkles or folds.
Are You a Candidate for a Facelift?
Dr. Rockmore's Latham facelift patients are a diverse group. Because aging occurs at different rates for everyone, patients typically range in age from their 40s to their 70s and include men and women who are looking to correct concerns such as:
Displaced fat and sagging tissue along the jawline (jowls)
Lost volume and lax skin in the cheeks
"Turkey wattle" and a lack of definition in the neck
Lines, folds, and wrinkles around the nose, mouth, and chin
During your consultation, Dr. Rockmore evaluates the condition of your skin and talks to you about your lifestyle and your desired results.
Plastic surgeons' understanding of aging continues to evolve and improve. We now understand that in addition to gravity causing areas of our face to loosen and fall, there are also volume changes that occur. Dr. Rockmore takes this into account when planning your facial rejuvenation surgery. By restoring volume with your facelift, your face will not be unnaturally taut but will instead be lifted and made to look youthful.
How Much Does a Facelift Cost?
At our practice in Latham near Albany, NY, the cost of a facelift ranges from $9,000 to $12,000 and a mini facelift ranges from $2,500 to $4,000. This price range is all-inclusive of anesthesia, facility, post-op care, and all office and surgeon fees. To learn more about costs associated with this procedure, schedule a consultation today.
Why Choose Dr. Rockmore for Facelift Surgery
Experience with thousands of facial surgical procedures
Individualized approach with each facelift tailored to your unique needs
Natural-looking results that help you look great without anyone knowing you had something done
Types of Facelifts
Because every face is unique, an individualized approach needs to be taken with your face to get the best and most natural-looking results. Dr. Rockmore offers a true spectrum of options rather than a few discrete facelift methods, and he can guide you in finding the right choice for you.
There are many types of facelifts, just as there are many types and shapes of faces and different signs of aging.
Traditional Facelift
A facelift (also called rhytidectomy) fully addresses and improves the advanced signs of aging in the face and neck. Dr. Rockmore repositions the underlying tissue and muscle and then removes excess skin. By lifting the tissue to avoid tension on the skin, the results look natural instead of like you had "work" done.
Mini Facelift
For some men and women with early signs of aging, a mini facelift may be all that is needed. This can be done as either an office procedure or at the surgery center near Dr. Rockmore's office. A mini facelift is best used when most of the aging changes are in the cheek area and the neck is fairly well preserved. It has limited recovery time and is sometimes referred to as a "weekend lift."
Liquid Facelift
For patients who are unsure whether a surgical approach is for them, Dr. Rockmore performs liquid facelifts using a combination of BOTOX® Cosmetic and injectable fillers such as JUVÉDERM VOLUMA® XC and JUVÉDERM®. The liquid facelift is perfect for patients looking to treat early signs of aging who would prefer little to no downtime for recovery. Patients can expect to see their facial volume restored and wrinkles and fine lines diminished.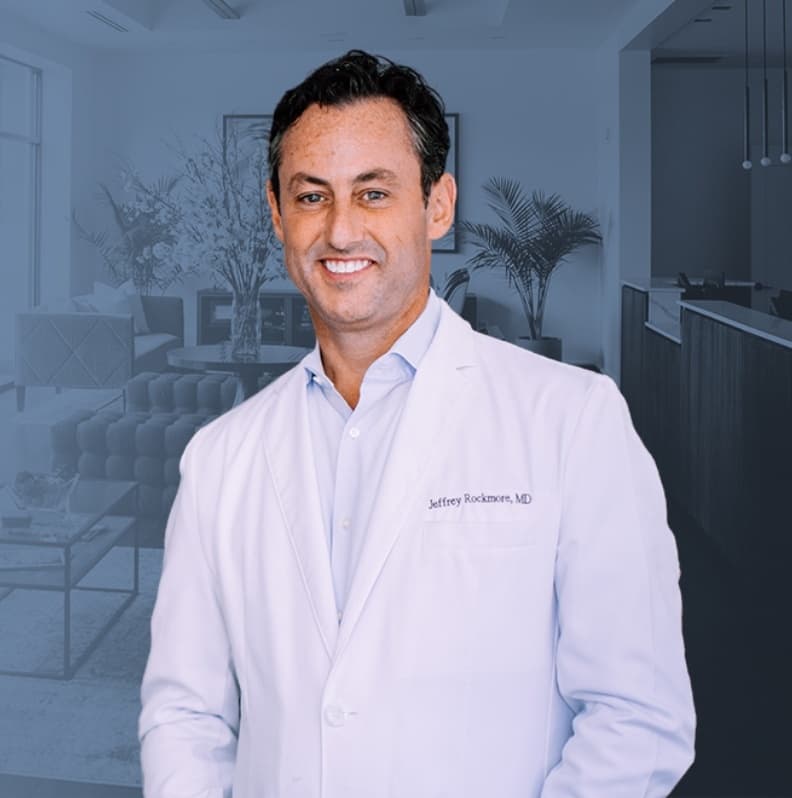 Dr. Rockmore
Board-Certified Plastic Surgeon
When you meet with Dr. Rockmore, you'll understand why men and women trust him with their plastic surgery results. His years of experience and refined aesthetic eye place him among the top plastic surgeons in the Capital Region.
Learn More Face & Neck Lift
When there are more changes from aging and the neck requires improvement, a face and neck lift is the best option. In this procedure, the cheeks are elevated back into their youthful position by adjusting the SMAS layer. This is a layer of tissue beneath the skin that is used to lift the facial structures without placing tension on the skin. This avoids the pulled or tight look that can be associated with older facelifts. The neck tissues are tightened to restore the jawline and the angle of the neck.
Facelift With Fat Grafts
Transferring fat as part of a facelift helps improve the appearance of your cheeks, lips, under the eyes, smile lines, and more. This technique uses your own fat to restore the volume lost in the aging process. Because it is your own natural tissue, much of the restored volume remains for years. Dr. Rockmore limits the amount of fat used, creating improvement but avoiding an unnatural, over-filled face.
Combination Procedures
During your consultation, Dr. Rockmore can also recommend whether you might benefit from any additional procedures, such as eyelid surgery or nonsurgical skin treatments. His patients frequently combine their facelifts with other options for a more comprehensive and natural-looking transformation.
Dr. Rockmore can tailor these techniques to meet your individual needs and expectations. With these options, we can maximize your results while minimizing your recovery time.
How Is Facelift Surgery Performed?
Facelift surgery is performed while you are under either sedation (twilight anesthesia) or general anesthesia, administered by a board-certified anesthesiologist to ensure your safety and comfort. During the procedure at the surgery center near our office, Dr. Rockmore typically makes incisions along the hairline and near the ears. These incisions fade to discreet scars that are easily concealed beneath a variety of hairstyles. He may also make a small incision beneath the chin to tighten and tone the neck. Prior to your procedure, Dr. Rockmore will discuss your incision locations with you to ensure you have a complete understanding of your likely outcome.
Once he makes the incisions, Dr. Rockmore surgically tightens and adjusts lax or weakened muscles. He may also remove small fat deposits with the aid of liposuction. Finally, Dr. Rockmore redrapes the skin and removes any excess for a smooth result. He then closes the incisions with sutures. He may also apply a small surgical drain behind the ear to prevent fluid buildup (seroma) during the healing process.
"I am so pleased with your results—you have changed my life for the better!"

-Real patient
Read more testimonials from Dr. Rockmore's real patients.
What Can I Expect After Facelift Surgery?
A facelift by Dr. Rockmore is an outpatient procedure, and you'll need a trusted friend or family member to drive you home following surgery. Although you'll experience some soreness during the first few days after surgery, discomfort is manageable with prescribed medications. Dr. Rockmore does not use any bandages, and he advises patients to keep their heads elevated at all times, including at night, to minimize swelling and facilitate proper healing. Patients can shower and wash their hair the day after surgery.
After about a week, Dr. Rockmore removes sutures at a follow-up appointment, although swelling and bruising may persist during this time.
You will work with his estheticians to speed the recovery process, which includes taking vitamins and having lymphatic drainage massage. Makeup artists in Dr. Rockmore's office will also help you hide any bruising while it resolves, and they'll teach you techniques to highlight your new look.
How Long Does It Take to Recover From a Facelift?
Most patients feel confident enough to return to work and other light daily activities after about 2 weeks. Patients can resume more strenuous activities, such as working out, with Dr. Rockmore's clearance.
Facelift Results
Dr. Rockmore understands the importance of subtlety in facelift surgery, and he strives to give each patient the results he or she wants. For most people, this means looking like a younger, more refreshed version of themself. By practicing healthy skincare habits and avoiding significant weight fluctuations, you can enjoy the results of your facelift for many years.
A Reputation Built on Results
It's been a life changing experience with Dr. Rockmore and his team. I had a full TT + lipo, and my...
Rockmore plastic surgery made me feel so comfortable and it was one of the best experiences I've ever...
Dr. Rockmore has the BEST bedside manner. He spent time really getting to know me and my body and...
I have always been very self conscious about my brest. They looked so different compared to other women...
Women and men looking for the best plastic surgeon to perform their facelift surgery travel from Troy, Schenectady, Saratoga Springs, and throughout eastern New York to have Dr. Rockmore perform their procedures. You can request a consultation using the online form or call our office (518) 328-3330 to schedule an appointment.
Back to Top