Rockmore Plastic Surgery: Jeffrey Rockmore, MD
15 Old Loudon Road
Latham, NY 12110
Phone: (518) 328-3330
Fax: (518) 328-3337
Monday - Friday: 8 a.m.–5 p.m.

Breast Lift Before & After Case 196
*Keep in mind that each patient is unique and your results may vary.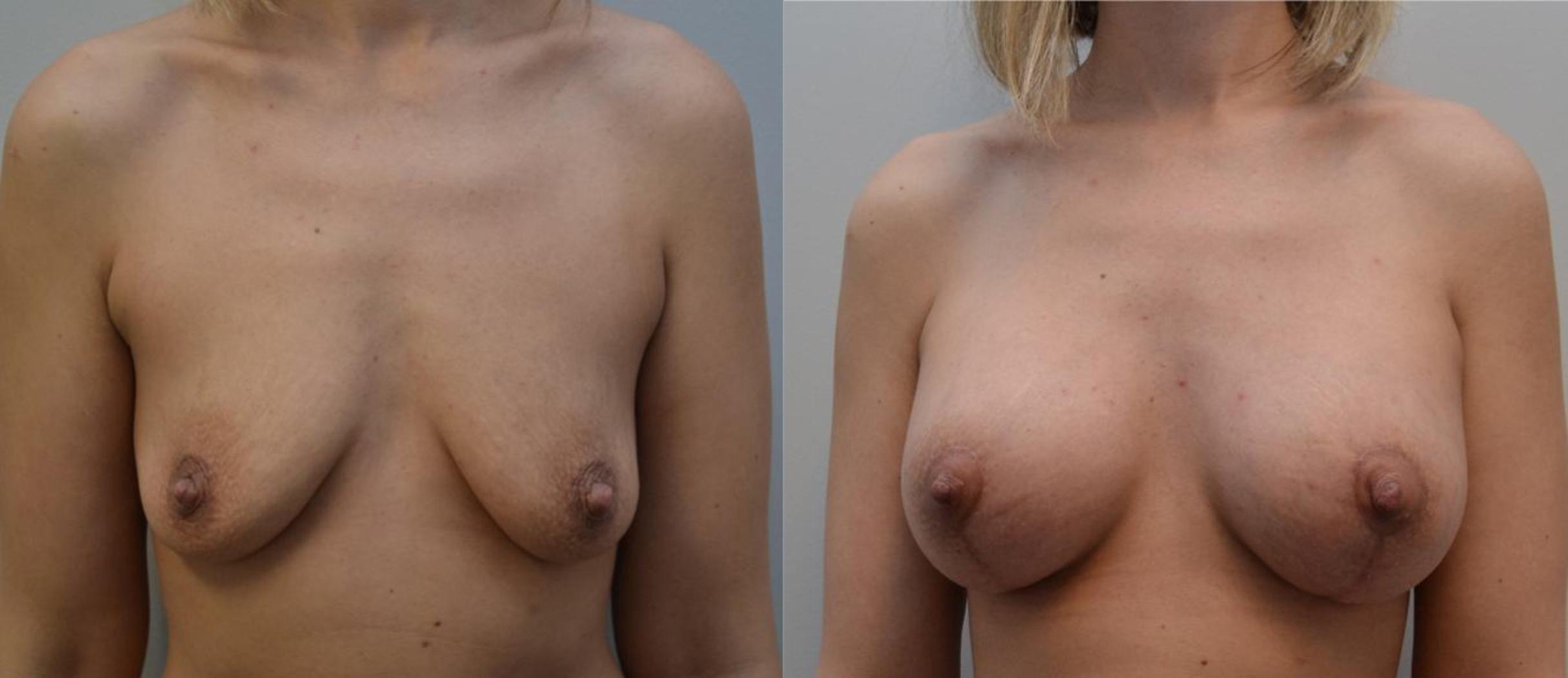 Before & After

This young woman wished to have her breasts back following pregnancy. She lost significant volume with her pregnancy and has developed sag with small breasts. She wished to look natural but more full and came to our Upstate New York office to discuss breast enhancement.
As you can see in the before photograph, she has significant deflation of her breasts following her pregnancy, which commonly occurs. We see many women who wish to have their body back after pregnancies, and this frequently includes the breasts. As the breasts have deflated, some sag has developed as well as some asymmetry. Her left breast sags slightly more than the right, and she has a wide distance between the breasts. A breast lift with implants is the best treatment for this.
For this woman, a 350 cc moderate plus profile silicone implant was placed to restore her breast volume. This gave her a natural slope and improved her cleavage. At the same time, a full mastopexy or breast lift was performed. The scars that are shown on the after photograph will fade significantly, as these are only a month old as shown. The lift has allowed the skin to be tightened and the breasts to be reshaped. While the scars are a trade off, they typically heal in a satisfactory fashion and are hidden within almost all clothing types.
She has gotten back to full activities without any restrictions and feels much more confident with her breasts restored.
If you like the results you see here, request a consultation to learn more about how this procedure can help you achieve your ideal appearance.
We encourage you to print your favorite photos and bring them with you during your consultation to help communicate your goals and expectations.

Keep in mind that each patient is unique and results may not occur for all patients.
These photos are of an actual patient of our practice who has provided consent to display their pictures online.
Procedures Performed
About This Patient
View All Patient Photos
Back to Top