Rockmore Plastic Surgery: Jeffrey Rockmore, MD
15 Old Loudon Road
Latham, NY 12110
Phone: (518) 328-3330
Fax: (518) 328-3337
Monday - Friday: 8 a.m.–5 p.m.

Brazilian Butt Lift
One of the most asked-for procedures, a Brazilian butt lift can drastically improve the shape of your behind while slimming other areas of your body. Both surgical and nonsurgical options are available for our patients to consider, to help achieve their aesthetic goals.
Dr. Jeffrey Rockmore is a board-certified plastic surgeon and body contouring specialist who has completed hundreds of Brazilian butt lifts at his Latham practice in Albany County, NY. He's extensively trained on the different techniques for this popular procedure, which is highly adaptable and customized for each patient.
Brazilian Butt Lift

Before & After Photos
WARNING:
This feature contains nudity. Please click OK to confirm you are at least 18 years of age and are not offended by such material.
OK
Brazilian Butt Lift

Before & After Photos

Keep in mind that each patient is unique and your results may vary.

Keep in mind that each patient is unique and your results may vary.
What Is a Brazilian Butt Lift?
Patients interested in undergoing a Brazilian butt lift have 2 options: injectable fillers or a surgical procedure using liposuction. Surgical butt lifts have a much more dramatic result and allow you to contour other parts of your body for natural-looking results.
How Is a Surgical Brazilian Butt Lift Performed?
People who want a more shapely backside and have unwanted areas of fat on their bodies are good candidates for a surgical Brazilian butt lift. The fat grafting technique is a 3-step process:
Harvesting excess fat with liposuction
Processing the fat to remove impurities
Injecting the fat into the buttocks
Dr. Rockmore can remove fat from the abdomen, back, love handles, inner and outer thighs, arms, and even your double chin using liposuction. After harvesting and processing the fat, Dr. Rockmore carefully injects it into the buttocks to ensure smooth and consistent results. The liposuction portion of the procedure helps contour your body, creating a slimmer appearance, while the fat grafting enhances the buttocks' size and shape.
A surgical Brazilian butt lift usually takes about 1.5 hours and is performed in an outpatient facility under general anesthesia. Patients should anticipate 1 to 2 weeks of postsurgical downtime.
What Are the Benefits of a Surgical Brazilian Butt Lift?
This procedure offers benefits that many patients find desirable:
The results are much more dramatic than a nonsurgical butt lift
You'll see the results almost immediately
It's a great way to contour other areas of your body
We can harvest more or less fat, depending on the aesthetic goals of each patient, and using liposuction in the waist area will accentuate the results of the butt lift by making the waistline smaller. Unfortunately, patients who have a limited amount of fat on their bodies aren't good candidates for this procedure because we need enough fat to start with in order to increase the size of your butt.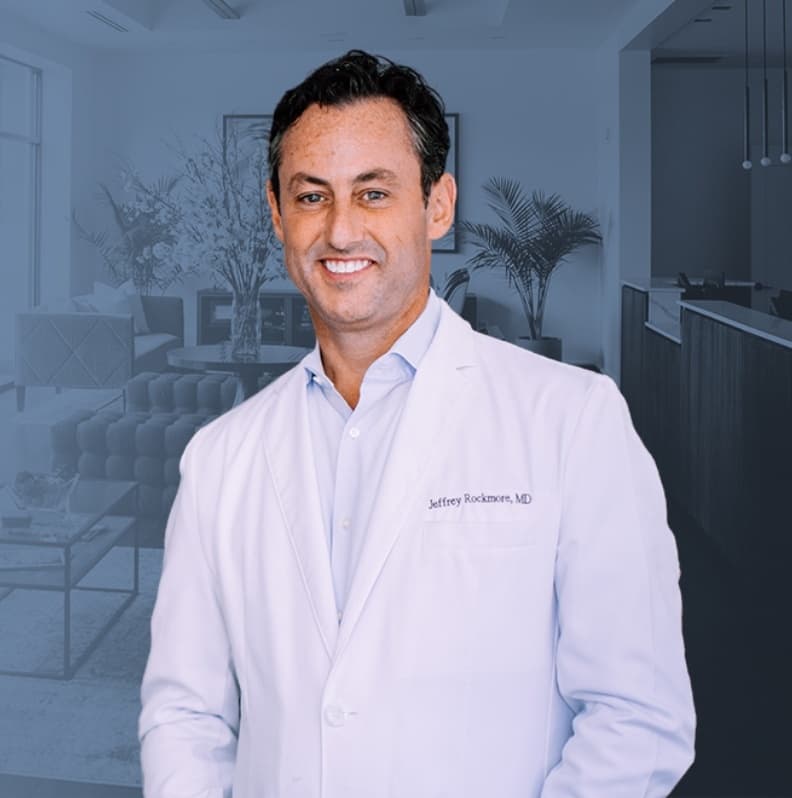 Dr. Rockmore
Board-Certified Plastic Surgeon
When you meet with Dr. Rockmore, you'll understand why men and women trust him with their plastic surgery results. His years of experience and refined aesthetic eye place him among the top plastic surgeons in the Capital Region.
Learn More How Much Does a Brazilian Butt Lift Cost?
The cost of a Brazilian butt lift at our Latham practice near Albany, NY, ranges from $8,000 and $10,000. This price range is all-inclusive, of anesthesia, facility, post-op care, and all office and surgeon fees. To learn more about costs associated with this procedure, schedule a consultation today.
How Is a Nonsurgical Butt Lift Performed?
We are one of the only plastic surgery practices in upstate New York specializing in nonsurgical butt lifts. Using poly-L-lactic acid injections (Sculptra® Aesthetic) that help to stimulate production of new collagen naturally, we can increase the fullness of your butt, giving you the shape you desire with limited downtime.
This procedure usually takes only 10 to 15 minutes and can be performed in our office using a local anesthetic. Patients who choose nonsurgical butt lifts return to our office about 2 to 3 weeks after the initial treatment for a touch-up treatment. Results typically take several weeks to a month to see, and patients can have as many additional sessions as they would like until they get the results they desire.
What Are the Benefits of Nonsurgical Brazilian Butt Lift?
If you have limited excess fat, or if you don't want to undergo surgery and take time off for the recovery, we recommend a nonsurgical Brazilian butt lift using injectables. We can customize the treatment plan based on your aesthetic goals, which is ideal for people who may want to start with a more conservative look. Using the injectables, we can target specific areas that you would like to enhance, such as the top portion of your butt or the sides, which helps to create a shapelier contour.
A Reputation Built on Results
Dr Rockmore is the best. His practice from front office staff to nursing and himself are completely...
It's been a life changing experience with Dr. Rockmore and his team. I had a full TT + lipo, and my...
Rockmore plastic surgery made me feel so comfortable and it was one of the best experiences I've ever...
Dr. Rockmore has the BEST bedside manner. He spent time really getting to know me and my body and...
What Is Brazilian Butt Lift Recovery Like?
The recovery following a surgical Brazilian butt lift usually takes a few weeks. During the recovery process, we recommend sleeping or sitting on your side and not on your butt. You will be very bruised and sore, and you'll need to take some time off of work. It will be about a month before you are back to your regular routine. While the recovery is longer than a nonsurgical butt lift, the results are immediate and typically are much more dramatic.
The side effects associated with a nonsurgical butt lift are limited to minor bruising, swelling, and soreness. There is no downtime, and you can leave our office and continue your daily routine, including exercising or going to work. In fact, we recommend frequent massage and activity, which will help stimulate collagen growth to enhance the shape further.
Why Choose Dr. Rockmore for Your Brazilian Butt Lift
Experience performing hundreds of Brazilian butt lifts
Extensive training on the different techniques and styles used to perform both surgical and nonsurgical butt lifts
Dr. Rockmore performs Brazilian butt lift surgery at his Albany County practice for patients who travel from Troy, Schenectady, Saratoga Springs, and throughout eastern New York. You can request a consultation online using the online form or call our office at (518) 328-3330 to schedule an appointment.
Back to Top