Rockmore Plastic Surgery: Jeffrey Rockmore, MD
15 Old Loudon Road
Latham, NY 12110
Phone: (518) 328-3330
Fax: (518) 328-3337
Monday - Friday: 8 a.m.–5 p.m.

WarmSculpting
Even with diet and exercise, most of us still have areas of unwanted fat. Nonsurgical fat reduction is a simple and effective option for reducing fat in the abdomen, flanks, back, inner and outer thighs, and the chin. Board-certified plastic surgeon Dr. Jeffrey Rockmore provides noninvasive and nonsurgical body contouring with SculpSure, or WarmSculpting, at his Latham practice in Albany County, NY.
During the treatment, the FDA-cleared device uses heat to destroy fat cells. A single treatment takes just 25 minutes and offers long-lasting results with little to no downtime.
Non-Invasive Fat Removal

Before & After Photos

Keep in mind that each patient is unique and your results may vary.

Before & After
Case #338
This 51-year-old patient came into our office to discuss her abdomen. During the consultation, we decided that she would be an excellent candidate for the truSculpt iD. This non-invasive radiofrequency technology selects unwanted fat by heating to a therapeutic temperature to permanently destroy fat cells. She is very happy with the result an...
Read More

Before & After
Case #395
This 36 year old patient presented with concerns of unwanted fat in her love handle region, abdomen, and medial thighs. She wanted to proceed with a non-invasive fat removal option and it was determined that she would be a great canidate for truSculpt iD. She came in for two treatments of these areas that were spaced out 8 weeks apart. When s...
Read More
Keep in mind that each patient is unique and your results may vary.
Are You a WarmSculpting Candidate?
Ideal WarmSculpting candidates are people who are dedicated to healthy lifestyles but are looking for help slimming down stubborn areas. Like liposuction, WarmSculpting is a body contouring procedure, not a weight-loss procedure. Continued exercise and healthy eating habits will help you enjoy your fat reduction results as much as possible for as long as possible.
Which Areas of the Body Does WarmSculpting Treat?
WarmSculpting technology allows us to treat up to 4 areas at once. These areas most commonly include the:
Abdomen
Back
Inner and outer thighs
Chin
Love handles
Treatment plans are fully customizable, so you can opt to target a single area of concern or enjoy a more comprehensive body contouring transformation. Some people choose to enhance their results with muscle toning via truSculpt®.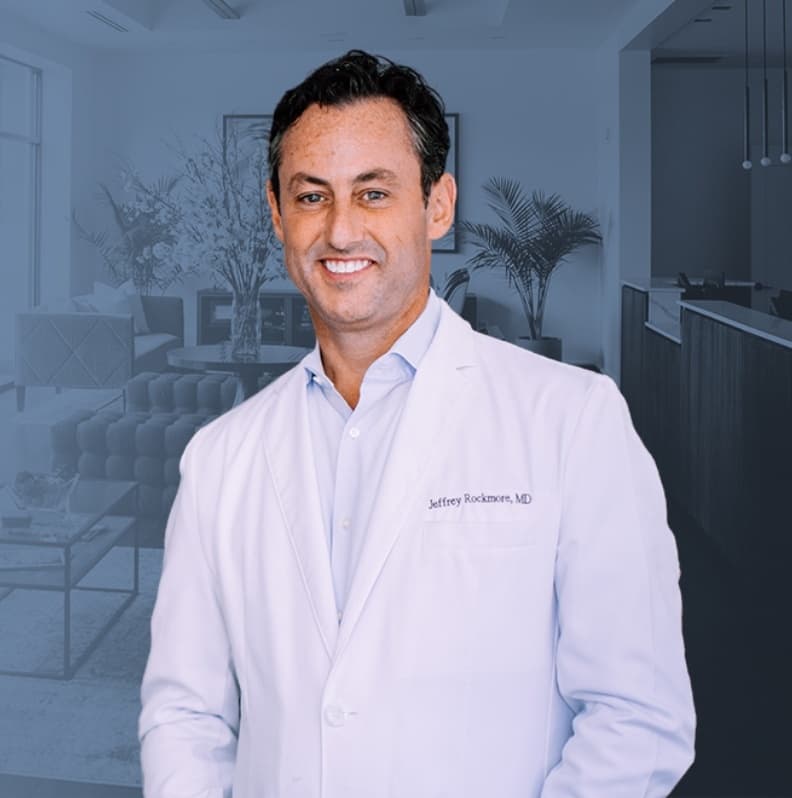 Dr. Rockmore
Board-Certified Plastic Surgeon
When you meet with Dr. Rockmore, you'll understand why men and women trust him with their plastic surgery results. His years of experience and refined aesthetic eye place him among the top plastic surgeons in the Capital Region.
Learn More How Does WarmSculpting Work?
During a WarmSculpting treatment, heat applicators are placed over the treatment area, and a laser heats up the underlying fat cells. This breaks them down without causing damage to the skin or surrounding tissues. Once the fat cells have been damaged, the body naturally processes and sweeps them away.
In this process, the fat cells are fully removed and will not regenerate in the future. You'll enjoy a slimmer silhouette without any surgery or recovery time.
What Are WarmSculpting Treatments Like?
Treatments only take about 25 minutes. The first thing you'll feel is a cooling sensation, which will be present during the entire treatment to keep your skin comfortable as the laser heats underlying tissues. You may feel some deep warmth or tingling, but it's comfortable enough that you won't need any anesthesia.
What Is WarmSculpting Recovery Like?
There is no recovery or down time necessary with WarmSculpting, so you can immediately resume your daily activities, including exercise.
How Many WarmSculpting Treatments Will I Need?
The number of treatments you'll need to achieve your best results will depend on the amount of correction you're looking for and the number of areas you're looking to treat. It's common for people to opt for 2 or 3 treatments, spaced 4 to 6 weeks apart.
When Will I See My WarmSculpting Results?
You'll likely see your full results after about 12 weeks. Your results will take shape gradually as your body naturally eliminates the damaged fat cells, so you may see improvements even sooner.
A Reputation Built on Results
Dr Rockmore is the best. His practice from front office staff to nursing and himself are completely...
It's been a life changing experience with Dr. Rockmore and his team. I had a full TT + lipo, and my...
Rockmore plastic surgery made me feel so comfortable and it was one of the best experiences I've ever...
Dr. Rockmore has the BEST bedside manner. He spent time really getting to know me and my body and...
How Much Does WarmSculpting Cost?
The cost of WarmSculpting is $750 per treatment. This price is all-inclusive. To learn more about costs associated with this procedure, schedule a consultation today.
Curious about nonsurgical body contouring with WarmSculpting? Troy, Schenectady, and Saratoga Springs men and women travel to Dr. Rockmore's Latham practice for exceptional results with a personal touch. Request a consultation online or call (518) 328-3330 to schedule your appointment.
Back to Top